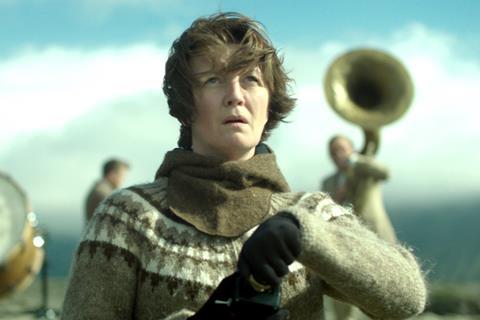 20 up-and-coming European producers have been selected for the 2018 edition of European Film Promotion's (EFP) networking platform Producers on the Move, which takes place at Cannes Film Festival.
As in previous years, the five-day event (May 10-14) will include pitching sessions, one-to-one meetings, case studies and other meetings with the international industry gathered in Cannes.
Two producers from this year's group will present their films in the festival. A Woman At War by Benedict Erlingsson and co-produced by Iceland's Birgitta Björnsdóttir will screen in the Critics' Week. Italian documentary Samouni Road by Stefano Savona, co-produced by Marco Alessi together with French partners, will premiere in Directors' Fortnight.
The programmes is backed Creative Europe – MEDIA Programme of the European Union and the participating EFP member organisations.
Previous Producers on the Move who have films in competition this year include Didar Domehri, Vladimer Katcharava and Joseph Roushop (Eva Husson's Girls Of The Sun), Piotr Dzieciol (Pawel Pawlikowski's Cold War), Tiziana Soudani (Alice Rohrwacher's Happy As Lazzaro) and Labina Mitevska and Fabian Gasmia (Turc Nuri Bilge Ceylan's Wild Pear Tree).
The full line-up is below:
Veselka Kiryakova (Bulgaria) - Red Carpet (Aga)
Oliver Sertić (Croatia) - Restart (Days Of Madness)
Radovan Síbrt (Czech Republic) - Pink (When The War Comes)
Per Damgaard Hansen (Denmark) - Masterplan Pictures (Winter Brothers)
Esko Rips (Estonia) - Nafta Films (The Secret Society Of Souptown)
Miia Haavisto (Finland) - Tekele Productions (Miami)
Nicolas Anthomé (France) - Bathysphere Productions (Makala)
Fabian Massah (Germany) - Endorphine Production (Symphony Of Now)
Birgitta BjöRnsdóttir (Iceland) - Vintage Pictures (The Swan)
Marco Alessi (Italy) - Dugong Films (Samouni Road)
Aija Berzina (Latvia) - Tasse Film (Oleg)
Lukas Trimonis (Lithuania) - In Script (Miracle)
Frank Hoeve (The Netherlands) - Baldr Film (Brothers)
ÅShild Ramborg (Norway) - Maipo Film (The Ash Lad: In The Hall Of The Mountain King)
Biljana Tutorov (Serbia) - Wake Up Films (When Pigs Come)
Peter Badač (Slovak Republic) – Bfilm (Filthy)
Rok SečEn (Slovenia) – Monoo (History Of Love)
Luisa Romeo (Spain) - Frida Films (Maria And Everybody Else)
David Herdies (Sweden) - Momento Film (Madre)
Katrin Renz (Switzerland) – Tellfilm (Blue My Mind)