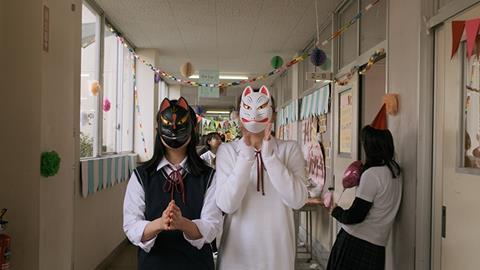 Eight local features wiill have their world premiere at Japan's Skip City International D-Cinema Festival, which is running as a hybrid event from July 16.
The festival opens with the world premiere of Teppe Isobe's coming of age drama Deadly School, which is adapted from the play by Kaoru Asakusa about high school girls working hard for their school festival. Teppe Isobe has won prizes at Skip City for three of his films Who Knows about My Life (2018), F is for Future (2019) and Cornflakes (2020).
Held in Kawaguchi City, Saitama Prefecture, Skip City focuses on emerging talent, running an International Competition and Japanese Film Competition.
Five of the six feature length films playing in the Japanese Film Competition are world premieres: Yuki Horiuchi's All Summer Long, Enen Yo's Double Life, Shogu Kiriu's Journey, Takeshi Kamei's Vata and Shota Koseki and Kentaro Kishi's The Waxing and Waning of Life. The Japanese Film Competition is rounded out by the Japan premiere of Blue-Collar Physics by Daiki Kobayashi. Eight short films have also been selected.
Outside of competition, there are two world premieres of films by past Skip City selected filmmakers: the second instalment in the Euglena series - Princess of Euglena - by Mikiya Sanada and comedy Hoarder on the Border by Takayuki Kayano, last year's Japanese Competition best picture and audience awards winner.
The 10-strong International Competition includes the Asian premiere of Swedish film Comedy Queen by Sanna Lenken and US feature Queen of Glory by Nana Mensah. The remaining eight films in International Competition are Japanese premieres, including Florence Miahilhe's The Crossing and Samuel Theis's Softie.
The president of the jury for International Competition is actress Shinobu Terajima, who won the Silver Bear for best actress at the Berlinale in 2010 for her performance in Catapillar by Koji Wakamatsu.
The president of the jury for the Japanese Film Competition is cinematographer Akiko Ashizawa, who often works with Kiyoshi Kurosawa, Koji Fukatheda, and Shuichi Okita and also worked on last year's Locarno winner Vengeance Is Mine, All Others Pay Cash by Edwin.
The festival has helped to launch the careers of filmmakers such as Kazuya Shiraishi (Lesson in Murder), Ryota Nakano (The Asadas), Shinichiro Ueda (One Cut of the Dead), Shinzo Katayama (Missing).
The festival runs from July 16 to 24 as a physical event and from July 21 to 27 for online.