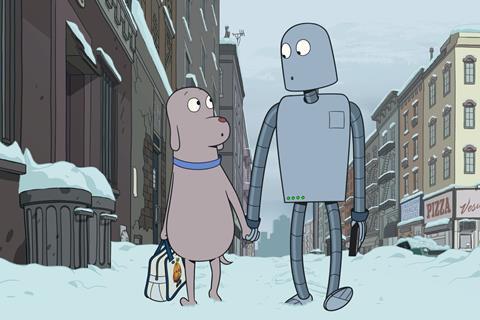 Spanish filmmaker Pablo Berger's Robot Dreams is a selling machine following its Cannes premiere in the Special Screenings section with Elle Driver inking deals worldwide for the buzzy animated feature.
Robot Dreams sold to Neon for North America at the start of the market, the first major deal for the territory of Cannes 2023.
Elle Driver has since inked deals for the film in the UK and Ireland (Curzon), Australia (Madman), Benelux (Cineart), Italy (I Wonder Pictures), Switzerland (Praesens), Germany (Plaion), Scandinavia (Selmer Media), Poland (best Film), Israel (New Cinema), Greece (Weird Wave), the former Yugoslavia (Fivia), CIS and the Baltics (Paradise Film), across Asia to Japan (Klockworx), Korea (JinJin Pictures), Hong Kong (Edko), China (Star Aura), India (Pictureworks), and Latin America (Cono Sur Cinetopia), Mexico and Central America (Cinecanibal), Brazil (Imovision) and airlines (Ricohet Digital Media).
B Team will release the film in Spain and Wild Bunch is handling distribution in France.
The Spanish-French co-production is based on a graphic novel by Sara Varon and follows Dog, a New York City canine who decides to build himself a robot companion. Against the backdrop of 1980s Manhattan, they become inseparable until a sad summer night when Dog is forced to abandon Robot at the beach. Will Dog and Robot ever meet again?
Berger is also a producer of the film alongside Ibon Cormenzana, Ignasi Estapé, Sandra Tapia Diaz and Ángel Durández of Arcadia Motion Pictures, with Noodles Production's Jérôme Vidal and Les Films du Worso's Sylvie Pialat and Benoit Quainon co-producing.
Curzon managing director Louisa Dent said the company "fell instantly for Robot Dreams," calling it "a rare film that speaks a universal language of love that will charm cinema lovers of all ages." The company is planning an ambitious theatrical release and awards campaign for the film in the UK and Ireland.
Berger's unlikely bromance
Elle Driver co-founder Adeline Fontan Tessaur said the Paris-based sales powerhouse has been following the film for the past three years alongside Berger and the producers and described it as "a gem [that has been] exceptionally well-received by different audiences and has generated the wave of emotion we were hoping for."
She added: "We're completely moved by this unlikely friendship between a Dog and a Robot – and you'll never listen to Earth, Wind & Fire's 'September' in the same way again."
The 2D-animated title marks Berger's first foray into the genre and his third film produced with Spain's Arcadia Motion Pictures following 2017's Abracadabra and 2012's Blancanieves. The latter earned 10 Goya awards and was Spain's submission to the 2013 Oscars race.
Berger has described Robot Dreams as both "my love letter to New York" and "a reflection on friendship – its importance and its fragility."
Robot Dreams was a late addition to the festival, announced in early May with the last round of titles in Cannes Classics and the Cinema de la Plage, but went on to become one of the market's buzziest titles and among the best reviewed festival films, including making it to Screen's list of top breakout titles.
The film also looks poised for an awards season run, particularly in the Oscars animation category. "Time will tell but Robot Dreams has all the makings of a classic," said Fontan Tessaur.