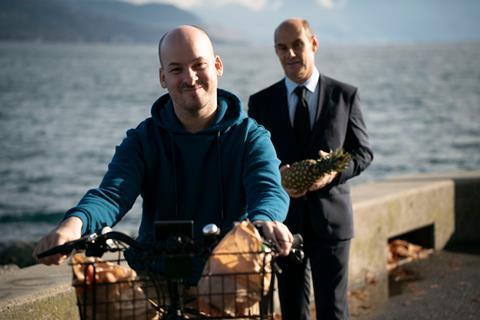 Paris-based sales company Elle Driver has sealed a slew of deals on Bernard Campan and Alexandre Jollien's pioneering French comedy-drama Beautiful Minds, following its launch as the European Film Market at the beginning of March.
Campan and Jollien co-star as a workaholic funeral director and a solitary vegetable delivery man and philosopher born with cerebral palsy, who embark on a road trip in a hearse.
European deals include to Benelux (Cineart), Spain (Youplanet Pictures, Caramel), CIS (Paradise Film Distribution), Poland (Monolith), Germany (X-Verleih), Israel (Red Cape, Nachshon Films), Italy (Notorious Pictures), ex-Yugoslavia (Blitz), Portugal (Cinemundo) and Switzerland (JMH Distributions).
Sales to the rest of the world include to Canada (Les Film Opale), Latin America (California Filmes) and Taiwan (Vie Vision Pictures).
The groundbreaking film is inspired by the real-life experiences of Jollien who was born with cerebral palsy but overcame his disabilities to study philosophy and become a major thinker and spiritual teacher, who has written several best-selling books.
He co-directs and co-stars with comedy actor and director Campan, who is best known internationally for his roles in The Three Brothers and comedy-drama Les Coeur Des Hommes trilogy.
It is the latest production from Philippe Godeau at Pan-Européenne, whose recent credits include Perfect Nanny, Yao and Raoul Taburin. Apollo Films has taken French rights. It is currently in post-production.
Beautiful Minds was among nine new titles on Elle Driver's EFM slate, including Pablo Berger's animation Robot Dreams and French director Guillaume Nicloux's new genre project Lockdown Tower.