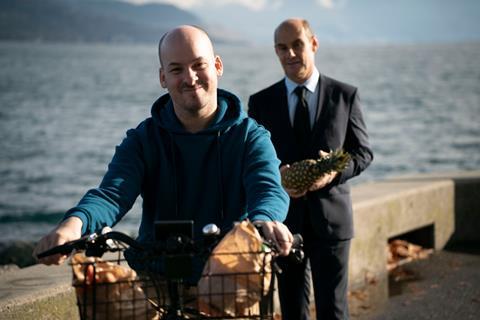 Elle Driver has launched sales on Bernard Campan and Alexandre Jollien's pioneering French comedy-drama Beautiful Minds, about a workaholic funeral director and a solitary vegetable delivery man and philosopher born with cerebral palsy, who embark on a road trip in a hearse.
It is inspired by the real-life experiences of Jollien who was born with cerebral palsy but overcame his disabilities to study philosophy and become became a major thinker and spiritual teacher, who has written several best-selling books. He co-directs and co-stars with comedy actor and director Campan.
It is the latest production from Philippe Godeau at Pan-Européene, whose recent credits include Perfect Nanny, Yao and Raoul Taburin. Apollo Films has taken French rights
It is among nine upcoming titles Elle Driver's on EFM slate, including its pre-market announcement, Pablo Berger's animation Robot Dreams
They include French director Guillaume Nicloux's new genre project Lockdown Tower, about the survival fight of tower block residents who awake one morning to discover it enveloped in a deadly black veil.
It is Nicloux's 16th feature after 2019 comedy Thalasso, which debuted at San Sebastian, 2015 Palme d'Or contender Valley Of Love and The Nun, which world premiered at Berlin in 2013.
Described as a film without "any moral justification", Lockdown Tower follows the residents as they pass from civilized cooperation to acting on their most primitive instincts. Long-time producers Sylvie Pialat and Benoit Quainon at Les Films du Worso are on board with Bruno Nahon at Unité de Production. It is currently in pre-production.
Elle Driver is also handling Les Films du Worso's concept comedy Everybody Loves Jeanne, starring Delete History co-star Blanche Gardin as a woman battling with her inner voice, represented as a witty animated creature called "Little Ghost".
It is Céline Devaux's debut feature after award-winning short films selected in Cannes and Venice, Sunday Lunch and Gros Chagrin. Portugal's O Som e a Furia is also onboard the film which is pre-production and will shoot partly in Lisbon.
Other new titles include Thomas Kruithof's Promises, starring Isabelle Huppert as the mayor of a deprived town on the outskirts of Paris, whose political integrity is challenged when she is offered as a post as a minister. Reda Kateb, seen recently in The Specials and HBO acquisition Possessions, plays her deputy.
Thibault Gast and Matthias Weber at 24-25 Films produce and it has been acquired for France by Wild Bunch Distribution.
A fifth new sales acquisition is Didier Barcelo's comedy road movie Freestyle, co-starring actress Marina Foïs and Benjamin Voisin, who is nominated in the Césars this year for his role in François Ozon's Summer of 85.
Foïs stars as a woman who has a panic attack while driving her car, which leaves her too scared to step outside the vehicle. As she drives around hoping it will subside, she is carjacked by a young man and the pair embark on a madcap trip across France.
It is produced by Michael Gentile at The Film and Jean Ozannat at Anomalie Films and is due to start shooting this April.
Elle Driver will continue sales on a trio of AFM 2020-launched titles currently in post-production.
They include François Descraques's ecological disaster sci-fi drama The Visitor From The Future, produced by Robin Boespflug-Vonier and Stéphane Parthenay Djam at Pyramide Production; The Companion, starring Najaa Bensaid opposite Agnes Jaoui and Pio Marmai as a troubled young woman who finds direction in an apprenticeship scheme and produced by Romain Brémond and Daniel Preljocaj at Soyouz Films, and home-invasion thriller See For Me stars Skyler Davenport as a woman whose only means of survival is a smartphone app. It is produced by Matt Code and Kristy Neville at Toronto-based Wildling Pictures.