First images of Jamie Bell and Mark Strong revealed.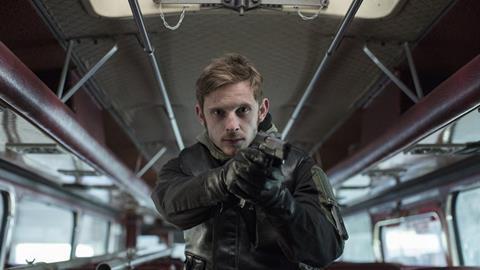 6 Days, an action thriller based on the true events of April 1980 when armed gunmen stormed the Iranian Embassy in London and took 26 people hostage, has begun the London portion of its shoot.
The New Zealand-UK co-production recently completed its New Zealand shoot and will continue this month in London.
The action thriller is directed by Toa Fraser (The Dead Lands) and produced by Matthew Metcalfe (The Dead Lands).
The cast is led by Jamie Bell (Fantastic Four), Mark Strong (The Imitation Game) and Abbie Cornish (Limitless).
The film traces the six days of tense stand-off that ensued as a group of highly trained soldiers from Britain's Special Air Service (SAS) prepared to raid the Iranian Embassy at London's Princes Gate.
Following their acquisition of Fraser's The Dead Lands, XYZ Films have again partnered with Metcalfe's General Film Corporation (GFC) and will take worldwide sales duties.
The GFC film is made in association with XYZ Films, Lip Sync Productions, Dog With a Bone Films and the Ingenious Senior Film Fund.
6 Days is financed by GFC in association with the New Zealand Film Commission, Lip Sync Productions and the Ingenious Senior Film Fund.
Icon Film Distribution has acquired UK rights and WME is co-repping North America with XYZ. Transmission Films have picked up local duties for Australia and New Zealand.
Executive producers are Gavin Poolman and Andrea Scarso representing Ingenious Senior Film Fund, Ian Dawson and Norman Humphrey of Icon and Nate Bolotin and Aram Tertzakian for XYZ Films. Lip Sync Productions' Norman Merry is co-producer and writer Glenn Standring also takes on EP duties.