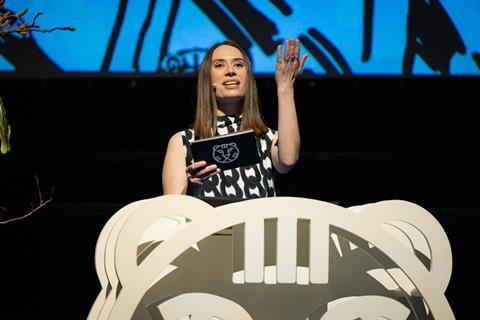 At an emotional opening night event in a packed Doelen Grand Hall, Vanja Kaludjercic, festival director of the International Film Festival Rotterdam, expressed "her sense of relief and her gratitude" at being able finally to welcome guests "after a three-year wait". She became festival director in 2020 but her first two editions at the helm, including the 50th anniversary, happened online.
These, she acknowledged, were "three years that actually changed the world as we knew [it]; three years that took a toll on all of us."
During the pandemic, "Cinema may not have looked like something too important, especially in the darkest of those hours, and yet exactly in those moments of desolation or loneliness, all of us were yearning for this communal space that we were taking for granted."
Kaludjercic was speaking before the world premiere of the opening night film, Henrik Martin Dahlsbakken's Munch, a biopic of Norwegian artist Edvard Munch. Produced by The Film Company and sold by Viaplay, the experimental film is set in various periods (including an interlude in a contemporary drum and base club in Berlin), with several actors playing Munch at different periods of his life and with a team of screenwriters.
"The film took us all by surprise," said Kaludjercic. "We have of course seen many biopics but nothing quite like this one, about Norway's most widely-known modern artist. He gave the world an image that everybody here is familiar with, 'The Scream'. Few other encapsulate [so well] the experience of the 20th century, an experience of existential alienation and angst. As the last years, between Covid-19 and now the war in Ukraine, have shown us, the fear hasn't ended with the turn of the century."
In a wide-ranging speech, Kaludjercic also invoked the memory of IFFR's maverick founder, Hubert Bals, but acknowledged the festival has changed dramatically since Bals launched it 52 years ago.
"When Hubert Bals founded this festival in 1972, he had a very clear idea of what the festival should be…his goal was to be critical and challenge the status quo," she noted, going on to speak of her own desire for IFFR to show films that "rip away the rug from under our feet."
Kaludjercic referred to Bals' desire to use the festival as a showcase for films from countries whose cinematic work "is not widely seen or distributed".
"Fifty years later, we can confidently say that this dream had come true…the legacy of Huub Bals lives on."
Legacy matters
IFFR has ballooned in size since Bals started it as an intimate, auteur-driven event. "Festivals today are something completely different from what they were half a century ago," the festival director said. "The programmers and I asked ourselves if, 50 years later, IFFR is questioning and challenging the world. We have to look again at the world and wonder what kind of consensus defines the cinema today…we had to look anew at what it actually means to be subversive today."
One part of this is to "look where others do not look and go where others do not go".
Kaludjercic said IFFR was determined to showcase films from "countries like Japan which these days, in spite of its massive and varied annual production, is often absent from international film festivals."
Japanese titles in selection this year include the international premiere of Morii Yusuke's directorial debut Amiko, about a young child; the European premiere of Miki Satoshi's Convenience Story, a focus on visionary animator, Yuasa Masaaki, and the world premiere in Big Screen Competition of Sakamoto Junji's Okiku And The World.
IFFR is also showing "blockbusters from Egypt and Indonesia".
Over the last year, the festival director has overseen a restructuring of IFFR personnel. She paid tribute to the current staff, "the amazing group of individuals who have come together to create this festival".
"We need cinema more than ever. The communal experience of watching a film together on a big screen is something that is irreplaceable. A festival like IFFR is an amplification of that. You could even say a visit to IFFR is like entering an agora, a place where during 12 days, a plurality of voices come together to share common ground," Kaludjercic concluded.
Dignitaries in attendance included Rotterdam mayor Ahmed Aboutaleb, Norwegian ambassador to the Netherlands, Bård Ivar Svendsen, the Rotterdam alderman of culture Said Kasmi and the CEO of the Norwegian Film Institute Kjersti Mo.
Among other guests at the Doelen screening and sprawling party afterwards were Drop Dead Fred director Ate De Jong and Jeanine Hage, director of the CoBo Fund.