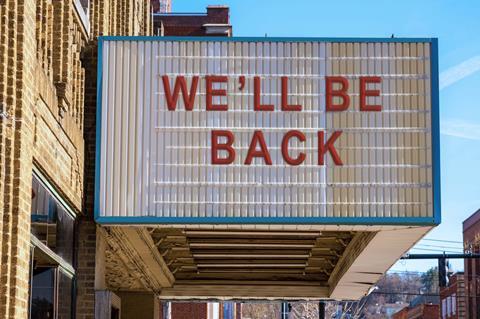 Cinemas in England can provisionally reopen from May 17 with a capacity of up to 1,000 people or 50% of the venue, as outlined in prime minister Boris Johnson's briefing to the House of Commons on the easing of Covid-19 lockdown measures.
Indoor cinemas fall under 'step three' of the government's plan, which also includes indoor hospitality, international travel and theatres.
Drive-in and outdoor cinemas will be able to reopen from April 12 under 'step two' of the plan, alongside indoor leisure facilities such as gyms, and outdoor areas of pubs and restaurants.
There will be no curfew for venues at any stage under this plan.
People will no longer be legally required to stay at home in England from March 29.
All steps of the plan for England are conditional on the continuing rollout of vaccines to the population, with the government aiming for all adults to have been offered their first of two doses by the end of July.
"We can't rule out reimposing restrictions at local or regional level if they are necessary to suppress a new variant of the virus," said Johnson.
However, he also described the roadmap as "cautious but also irreversible", suggesting that once restrictions are lifted they will not be reapplied.
The government is also considering the introduction of 'Covid status certificates' - passport-style documents to enable premises to admit only those who have had the Covid-vaccine. The idea of Covid passports has proved divisive, with critics condemning it as an infringement on citizens' freedoms.
Reaction
Phil Clapp, chief executive of exhibitors body the UK Cinema Association, expressed ambivalence about the May date.
"While - given the exemplary record of cinemas in delivering a safe big screen experience before this latest lockdown - we are disappointed not to have an earlier opening date, it is good to have some confirmation. We look forward to similar announcements across the rest of the UK," Clapp told Screen.
All cinemas in England have been closed since December 31, 2020 with the country in lockdown, under which indoor gatherings of any size are not permitted, and only essential commercial premises are allowed to operate.
Cineworld, the UK's largest chain by market share, closed all 127 of its sites in the UK – including its boutique Picturehouse chain – on October 4, 2020; while Odeon, the second-largest chain, switched to weekend-only opening in a quarter of its sites from the following day, before the closure of all cinemas in November then again in January.