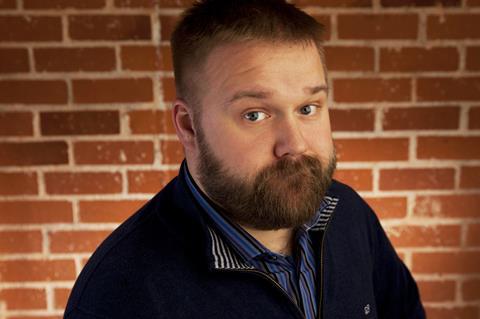 eOne and Robert Kirkman's Skybound Entertainment are joining forces to produce and distribute 5 Year, a pre-apocalypse drama TV franchise to encompass local-language series made in different territories around the world.
Based on an original idea by Kirkman, creator of the Walking Dead comic book series, 5 Year will focus on how people across the globe cope with news that the world will end in five years due to a meteor rushing towards earth. Each season of the show will cover one year, with local versions following the same timeline but having their own characters and stories.
eOne and Skybound will co-produce the series and eOne will serve as financier and distributor. Skybound partners Kirkman and David Alpert will be executive producers on all the 5 Year series, along with the company's Bryan Furst and Sean Furst.
The franchise will include previously announced 5 Year series set in Latin America, with producers Mixer and 360 Powwow, and in Korea, with streaming service Viki. The deal also covers series currently in the works in Italy, Germany, Russia, China, the UK and other markets.
Bryan and Sean Furst commented: "This is one of the most ambitious projects we've worked on, and also one of the most rewarding. Our work with all our partners around the globe continues to inspire our vision for this series and our commitment and passion for global storytelling. 5 Year is a fundamentally human story, meant to explore humanity's capacity for good and evil in the face of the ultimate threat. eOne is a world class producer and distributor of television and they share our vision and ambition for this huge undertaking. We are very happy to have them as our partner."
eOne chief strategy officer, film and television Peter Micelli added: "We couldn't possibly pass up the opportunity to work on a truly innovative project that blends multiple, local productions seamlessly into a story as it happens globally. Robert's talent for creating content universes and connecting with audiences through bold storytelling makes this partnership most exciting for us and we are thrilled to join forces with him and the Skybound team to bring a multi-level story like the 5 Year universe to audiences around the world. In Skybound, we have found a partner that shares our drive to create future-facing content with worldwide appeal that challenges conventions and spark imaginations."