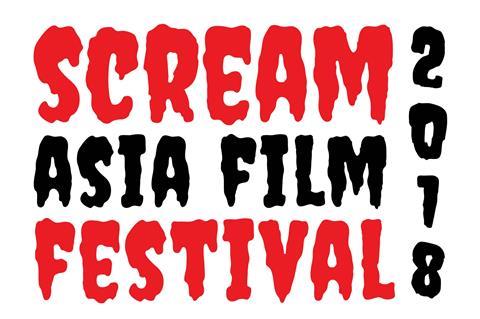 Singapore auteur Eric Khoo (12 Storeys) is stepping into a new role of festival curator for the first time through the launch of Scream Asia Film Festival.
The inaugural horror film festival, which will run from Oct 19-28 in Singapore, will showcase 11 feature films curated by creative director Khoo and festival programmer Jongsuk Thomas Nam from South Korea.
Nam is currently managing director of Bucheon International Fantastic Film Festival (BIFAN)'s industry programme Network of Asian Fantastic Films (NAFF). Former co-festival director of the Singapore International Film Festival (1991-2007) Teo Swee Leng serves as festival manager.
The festival will also present two horror filmmaking masterclasses by Joko Anwar whose Satan's Slaves is the highest grossing Indonesian film of 2017 and the highest grossing Indonesian horror of all time; and Korean smash hit Train To Busan director Yeon Sang-ho.
The festival will open with the world premiere of Jacen Tan's feature debut Zombiepura, which is billed as Singapore's first zombie film, and close with Indonesian director Billy Christian's They Who Are Not Seen.
Highlights also include the Asian premiere of Overlord, a WWII action-horror film produced by JJ Abrams and directed by Julius Avery; a special screening of Yeon's previous film The Fake; and two episodes from Folklore, the six-part anthology horror from HBO Asia's original series.
The two hour-long HBO episodes to play at Scream Asia are A Mother's Love by Anwar, which will have its world premiere at Toronto, and Khoo's Nobody, which will be in Sitges. Khoo is the creator of the HBO anthology.
"Horror is my favourite genre and it's all thanks to my mother as she was the absolute horror fan. She brought me when I was a little boy to see It's Alive and though it freaked me out, I just had to get more," Khoo told Screendaily.
He added that Scream will introduce a horror short film competition in the future to nurture talents. Winners will have the opportunity to develop their shorts into features with mm2 Entertainment.
The festival is organised by mm2 Entertainment and Cathay Cineplexes, both of which are subsidiaries of Singapore's SGX Mainboard-listed mm2 Asia. mm2 Entertainment previously produced local horror films Bring Back The Dead and Ghost Child and more recently 23.59 The Haunting Hour and Zombiepura.