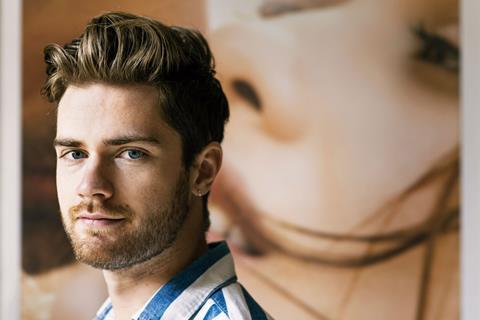 Co-productions from Belgian director Lukas Dhont, Canada's Brandon Cronenberg and UK filmmaker Fyzal Boulifa are among 49 selected for support in the latest Eurimages funding round.
Dhont, whose transgender dancer drama Girl won the Camera d'Or at Cannes in 2018, received €300,000 ($357,000) toward his anticipated second feature, Close.
The Belgium-France-Netherlands co-production centres on two 13-year-old boys who have always been incredibly close but drift apart after their relationship is questioned by schoolmates. When tragedy strikes, one is forced to confront why he distanced himself from his closest friend.
German sales company The Match Factory has acquired international rights to Close, which is produced by Dirk Impens of Belgium's Menuet and Michiel Dhont. Co-producers are Diaphana (France), Topkapi Films (Netherlands) and Versus Productions (Belgium).
Cronenberg, whose sci-fi horror Possessor debuted at Sundance in 2020, received €324,000 ($385,000) for upcoming feature Infinity Pool. Alexander Skarsgård will star in the sci-fi thriller about a vacation that takes a dark turn. Neon, the US studio behind Parasite, will co-finance and executive produce the film alongside Topic Studios, Telefilm Canada and the Croatian Film Fund.
Boulifa, whose UK drama Lynn + Lucy debuted at San Sebastian in 2019, received €190,000 ($226,000) for his next feature, The Damned Don't Cry. The film will be a France-Belgium-Morocco co-production.
Further co-productions to benefit from the latest funding round include Margarethe von Trotta's Bachmann & Frisch, about the relationship between writers Ingeborg Bachmann and Max Frisch and starring Vicky Krieps and Ronald Zehrfeld. The Switzerland-Germany-Austria-Luxembourg co-production received €450,000 ($535,000). German filmmaker Von Trotta is known for features such as Hannah Arendt and won Venice's Golden Lion in 1981 with The German Sisters.
The project to receive the largest amount of funding was They Shot The Piano Player, a musical animation from Spain's Fernando Trueba and Javier Mariscal, Oscar nominees in 2012 for Chico & Rita.
The Spain-France-Netherlands-Portugal co-production received €470,000 ($560,000). Jeff Goldblum is attached to voice the lead character, a New York music journalist on a quest to uncover the truth behind the disappearance of young Brazilian piano virtuoso Tenorio JR.
The 163rd Eurimages council meeting was held online. Of the 49 feature projects it selected for a total of €10.8m (£12.8m) funding, six are documentaries and three are animations. Of those selected, 35.3% are directed by women, receiving 32.5% of the total amount awarded.
The Eurimages board also agreed to award €530,387 to 73 cinemas based on their 2020 programming and to distribute a part of the remainder of the Cinemas Support budget, namely €167,616, to the 28 cinemas in the network most impacted by the effects of Covid-19.
Eurimages June 2021 funding
A Cup Of Coffee And New Shoes On (Alb-Gre) - €110,000
Dir Gentian Koçi
A Happy Day (Nor-Den) - €320,000
Dir Hisham Zaman
Anxiety (Pol-Switz-Ger) - €340,000
Dir Slawomir Fabicki (Poland)
As Bestas (Sp-Fr) - €450,000
Dir Rodrigo Sorogoyen
Bachmann & Frisch (Switz-Ger-Austria-Lux) - €450,000
Dir Margarethe Von Trotta
Banzo (Port-Fr) - €250,000
Dir Margarida Cardoso
Black Box (Ger-Bel) - €290,000
Dir Aslı Özge
The Book Of Everything (Neth-Lat) - €145,000
Dir Ineke Houtman
Close (Bel-Fr-Neth) - €300,000
Dir Lukas Dhont
Dalva (Bel-Fr) - €300,000
Dir Emmanuelle Nicot
The Damned Don't Cry (Fr-Bel-Mor) - €190,000
Dir Fyzal Boulifa
Dandelion Nectar (Rus-Fin) - €110,000
Dir Anna Kuznetsova
Dark Paradise (Est-Fr) - €150,000
Dir Triin Ruumet
The Editorial Office (Ukr-Ger) - €140,000
Dir Roman Bondarchuk
Gondola (Ger-Geo) - €80,000
Dir Veit Helmer
The Happiest Man In The World (N Mac-Bel-Den-Cro) - €290,000
Dir Teona Strugar Mitevska
Heaven (Bel-Fr) - €330,000
Dir Zeno Graton
Hello (Bul-Ger) - €170,000
Dir Stephan Komandarev
Infinity Pool (Can-Hun-Cro) - €324,000
Dir Brandon Cronenberg
The Invisible Fight (Est-Gre-Lat) - €360,000
Dir Rainer Sarnet
Iraq, Children Of Shame (Bel-Switz) - €88,000, documentary
Dir Pascale Bourgaux
Irena (Lith-Est-Bul) - €112,000, documentary
Dir Giedre Zickyte
The Lost Dream Team (Cro-It-Ser-Slo) - €130,000, documentary
Dir Jure Pavlović
The Man From Rome (Neth-Ger) - €205,000
Dir Jaap van Heusden
The Man Without Guilt (Slo-It-Cro) - €140,000
Dir Ivan Gergolet
May Labor Day (Bos & Her-Cro-N Mac-Ser) - €140,000
Dir Pjer Žalica
The Miljacka Vampires (Cro-Austria) - €140,000
Dir Pavo Marinković
Misty - Erroll Garner (Switz-Ger-Fr) - €140,000, documentary
Dir Georges Gachot
Motherhood (Fr-Can-Tun) - €207,000
Dir Meryam Joobeur
Mr. K (Neth-Bel-Cro) - €295,000
Dir Tallulah H. Schwab
My Grandfather's Demons (Port-Sp-Fr) - €380,000, animation
Dir Nuno Beato
On The Fringe (Sp-Bel) - €280,000
Dir Juan Diego Botto
Red (Neth-Ger) - €140,000
Dir Camiel Schouwenaar
Red Path (Fr-Bel-Tun-Pol) - €180,000
Dir Lotfi Achour
Richelieu (Can-Fr) - €230,000
Dir Pier-Philippe Chevigny
Rift In The Ice (Ser-Neth-It-Slo-Cro) - €225,000
Dir Maja Miloš
Scarlet (Fr-It) - €370,000
Dir Pietro Marcello
Sea Sparkle (Bel-Neth-Cro) - €180,000
Dir Domien Huyghe
Sirin (Mont-Alb-Cro) - €85,000
Dir Senad Šahmanovic
Something You Said Last Night (Can-Switz) - €230,000
Dir Luis De Filippis
Strandzha (Ger-Bul) - €80,000, documentary
Dir Pepa Hristova
They Shot The Piano Player (Sp-Fr-Neth-Port) - €470,000, animation
Dirs Fernando Trueba, Javier Mariscal
The Thousand Faces Of Goya (Fr-Sp-Port) - €110,000, documentary
Dir José Luis López Linares
Under The Naked Sky (Neth-Bel) - €150,000
Dir Lilian Sijbesma
Unicorn Wars (Sp-Fr) - €390,000, animation
Dir Alberto Vázquez
Windless (Bul-It) - €90,000
Dir Pavel G. Vesnakov
Wishbone (Gre-Fr-Ger) - €130,000
Dir Penny Panagiotopoulou
Woman On The Roof (Pol-Swe-Fr) - €175,000
Dir Anna Jadowska
The Z Word (Can-Fr) - €225,000
Dirs Anouk Whisell, Yohann-Karl Whissell, François Simard