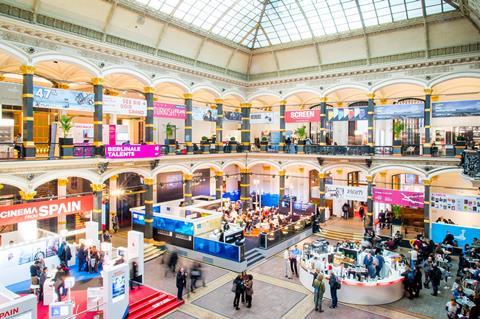 Market screenings at the Berlinale's European Film Market (EFM) will take place at the seven-screen Delphi LUX arthouse complex in the west of the city for the first time in 2020, as the Berlinale seeks to find new venues following the impending closure of the Cinestar Sony Center and the IMAX.
The Delphi Lux is next to the Delphi Kino which houses the Forum screenings during the festival. A free shuttle service taking around 15-20 minutes from the main EFM venues in Potsdamer Platz, the Gropius Bau and the Marriott Hotel will be provided, said EFM organisers.
Public transport will be via the 200 bus or the U2 underground to Zoologischer Garten.
"We are acutely aware of the importance of screening slots in close proximity to the EFM and are working hard on locking in alternative venues (in studio set-ups) around Potsdamer Platz," wrote EFM management in a letter to partners and. colleagues this week.
"To add screening slots, we were able to secure cinemas and studios at CinemaxX already for Wednesday, 19 February 2020 – one day prior to EFM and the Festival's official opening."
In a separate letter to exhibitors with stands or offices in the Martin Gropius Bau or the Marriott Hotel, EFM management wrote: "[We will] allocate screening slots according to a strict first come, first served policy."
EFM exhibitors will be prioritised - but not guaranteed - when assigning screening slots in the Potsdamer Platz venues, it said.
The seven screens of the Delphi LUX range in seating capacity from 137 to 35. The multiplex had previously hosted the EFM's Lola@Berlinale programme of films long-listed for the German Film Awards, which had been open to accredited professionals and members of the German Film Academy.
The Film Academy's co-managing director Maria Köpf confirmed the Lola@Berlinale will be staged again as part of the EFM but a new screening venue for that strand had yet to be finalised.
The Delphi LUX also serves as the European Film Award Cinema presenting the nominated films for the European Film Awards to the general public in the run-up to the European Film Awards which are being held in Berlin on December 7 this year.