45 Years and Macbeth both went home empty-handed at the British Independent Film Awards.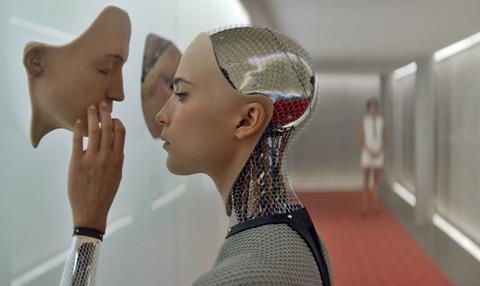 Ex Machina was the major winner at the Moët British Independent Film Awards, taking four prizes including Best British Independent Film.
Alex Garland's Sci-Fi feature also took home Best Director and Best Screenplay as well as Outstanding Achievement in Craft for Andrew Whitehurst's visual effects work.
Andrew Haigh's 45 Years and Justin Kurzel's Macbeth went home empty-handed, despite both being nominated in six categories.
Richard Ayoade presented the evening ceremony, joking in his introduction: "I hope that my presence today can be a small step in encouraging more men to take part in the film industry."
Tom Hardy took the Best Actor prize for his portrayal of both Ronnie and Reggie Kray in Legend, he couldn't attend the ceremony so Domhnall Gleeson accepted the award on his behalf.
Domhnall also accepted an award on behalf of his father, Brendan Glesson, who beat his son in the Best Supporting Actor category for his role in Suffragette, making it back-to-back BIFAs after he took Best Actor for Calvary last year.
Saorise Ronan took Best Actress for her role in John Crowley's period drama Brooklyn, in the process noting that she met the film's producers at the BIFAs two years ago.
Best Supporting Actress went to Olivia Colman for The Lobster, her third BIFA after Hyde Park On Hudson and Tyrannosaur.
Best International Independent Film went to Lenny Abrahamson's Room, which beat a strong field including Carol and Son Of Saul.
Best Documentary went to Dark Horse: The Incredible True Story Of Dream Alliance, which surprisingly beat Asif Kapadia's Amy.
The Most Promising Newcomer award was presented to Abigail Hardingham for her role in Ben Blaine and Chris Blaine's Nina Forever.
The Douglas Hickox Award for Best Debut Director went to 2013 Screen Star of Tomorrow Stephen Fingleton following his first feature, The Survivalist.
The Discovery Award was presented to Jeanie Finlay for her documentary Orion: The Man Who Would Be King.
Producer of the year was awarded jointly to Paul Katis and Andrew de Lotbiniere for Kajaki: The True Story.
Best British Short Film went to Emilie Jouffroy and Nina Gantzfor Edmond.