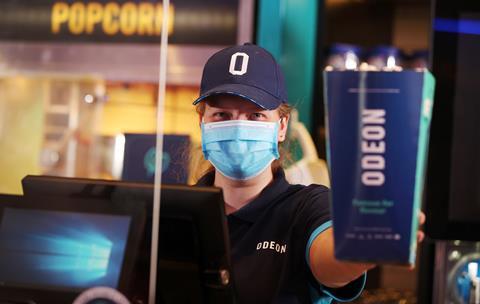 Cinema audiences in England will be required to wear face coverings from August 8 as part of the UK government's measures to stem the spread of Covid-19.
In a briefing on the country's lockdown measures, UK prime minister Boris Johnson said the rules on face coverings will be extended "to other indoor settings where you're likely to come into contact with people you do not normally meet such as museums, galleries, cinemas and places of worship.
"We now recommend face coverings are worn in these settings and this will become enforceable in law from August 8."
Cinemas in England have been steadily reopening since July 4, following more than three months of lockdown. Other countries including Scotland, Wales and Northern Ireland followed suit throughout July but are governed by different rules as devolved nations.
Staff at cinemas chains such as Odeon have been required to wear masks by their employers and while not required, audience members have not been discouraged from wearing face coverings if they choose. But this marks the first time it will become a mandatory requirement for cinemagoers.
Face coverings in cinemas have been mandatory in countries including South Korea, China, Belgium and Poland as venues around the world continue to reopen during the coronavirus pandemic.
Cinema reopenings gather momentum
The move comes as the reopening of cinemas across the UK gathers momentum.
Around 20% of cinemas were open across the UK and Ireland last weekend, according to Comscore, but that will increase from today as chains including Cineworld and Picturehouse resume business.
Cineworld, the world's second largest exhibitor, operates 102 cinemas in the UK and Ireland, and while around a dozen sites across Scotland, Wales and Ireland remain closed, it has reopened all its venues in England today.
Picturehouse has also opened all its 24 cinemas in England, while keeping the Cameo in Edinburgh closed ahead of restrictions in Scotland easing further.
The Curzon cinema chain now has four out of 13 venues open (Canterbury, Mayfair, Richmond and Bloomsbury) and is understood to be planning further reopenings next weekend.
As of today, boutique cinema operator Everyman Media Group has 17 sites open – with five resuming screenings today – representing nearly 50% of its venues. Eight more are set to reopen on August 14 and a further eight on August 21, including a new venue in Lincoln. However, an opening date has yet to be set for its cinemas in Glasgow and Cardiff.
Odeon, which is owned by AMC Theaters, currently has 22 of its 122 UK sites open, including cinemas in Scotland (Glasgow and Dumfermline). A spokesman told Screen the chain would continue its phased reopening throughout August.
This week, Vue pushed its date to August 7, when it plans to begin a phased reopening with 10 sites.