DECEMBER 5 UPDATE: Ahead of Rogue One, Disney crosses $4bn mark overseas for their first time ever, marking only the second time for any studio.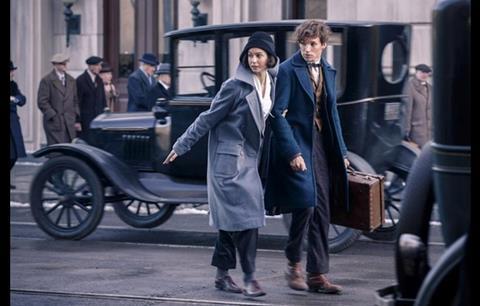 WARNER BROS PICTURES INTERNATIONAL
UPDATE: Fantastic Beasts And Where To Find Them continued its magical international run with a $61.4m weekend from its 67 markets for $424.4m to date.
The Harry Potter spin-off added $15.4m in China as it charted second for a local haul of $72.3m, while Japan fell only 18% with a $6m second weekend as it retained top spot and reached $28.3m.
Elsewhere, Fantastic Beasts retained the top spot for the third straight week in the UK and Germany where with $46.3m and $23.7m, respectively, it is now Warner Bros' biggest release of 2016.
At IMAX screens worldwide, Fantastic Beasts amassed another $7.4m for $47.4m, with $5.6m coming from overseas for $28.6m. China provided the majority with $3.3m for $10.1m after ten days.
Landing in 21 new markets, Sully brought in $11.3m from its 21 markets to bring its overseas tally to $76m.
France led the way with a $2.9m debut from its 480 screens to chart third, followed by a chart-topping $2.3m in Italy from 536 screens and a third-placed $2.2m bow in the UK.
TOHO
Japanese box office sensation Your Name opened in China, among others, to take an estimated $40.9m from its seven territories for a huge $243.1m to date, according to ComScore.
WALT DISNEY STUDIOS MOTION PICTURES INTERNATIONAL
Moana sailed to a $32m second weekend overseas from its 30 territories for an early $57.5m internationally and $177.4m worldwide.
Walt Disney Animation Studios' latest effort posted its best new opening in France with a preview-boosted $6.4m, equal to Frozen, to chart first and also landed top of the chart in Russia ($5.1m), Mexico ($2.7m) and Spain ($2m).
Holdover-wise, Moana dropped 55% with a $5.5m second weekend in China for $21.3m to date. It opens in Israel and Lebanon next weekend, with releases in Germany (December 22) and Australia (December 26), among others, still to come.
With no new openings, Doctor Strange conjured up $3.7m from its 51 territories for $419.6m overseas and a global haul of $634.9m, surpassing Iron Man 2's $624m result.
Ahead of the launch of Rogue One: A Star Wars Story on December 16, Disney's international box office haul for 2016 is now $4.08bn, marking the first time the studio has crossed the $4bn mark and only the second time for any studio.
SONY PICTURES RELEASING INTERNATIONAL
After opening in Russia last weekend, Underworld: Blood Wars continued its international rollout in 51 markets with $16.3m for an early $18.9m.
The fifth instalment in the series posted chart-topping debuts of $1.3m in Indonesia from 200 screens and $915k in Malaysia from 300 screens, while it opened with $1.4m in Brazil from 639 screens, $1.3m in Mexico from 1,233 and a preview-boosted $1.2m in Australia from 330 screens.
Its next major releases comes in Spain and the UK on January 13, followed by France (February 15) and Italy (March 30).
1898. Los Últimos De Filipinas, a co-production from Sony Pictures International Productions, debuted in Spain with $565k from 327 screens.
PARAMOUNT PICTURES INTERNATIONAL
Allied uncovered an estimated $12.1m from its 36 markets on its second weekend overseas for an early $24.8m.
Robert Zemeckis' latest opened fourth in China with $3.6m and second in Russia with $1.7m, while it took $1.5m in France for $4.7m to date and $880k in the UK for $3.6m. Its next major release comes in Germany on December 22.
Landing in its final market of South Korea with $3m from 370 sites, Jack Reacher: Never Go Back shot to $5.9m from its 41 markets for $97.4m so far. It added $765k in Venezuela for $4m and $671k in Brazil for $1.9m.
FOX INTERNATIONAL
UPDATE: Miss Peregrine's Home For Peculiar Children took an extra $10.5m from its 19 markets for $185.5m to date. The majority of the weekend take came from a $10.4m bow in China to chart third.
Led by a $3.2m number two debut in Australia, Trolls danced to a further $7.5m from its 69 markets for $165.3m. The animation also opened in New Zealand with $430k and fell only 13% with a $389k seventh weekend in Germany for $8.5m.
Keeping Up With The Joneses stands at $13.9m ahead of its release in Spain next weekend.
ASIAN TITLES
3D martial arts epic Sword Master sliced to an estimated $7.3m overseas debut from its three territories, according to ComScore.
Wild Bunch's I Am Not Madame Bovary added $1.9m from its four territories for $53.9m to date.
ARRIVAL
After crossing $100m worldwide, Arrival took a further $4.8m from its 39 Sony and FilmNation Entertainment markets for $39.1m to date overseas.
From its 33 Sony markets, the critically acclaimed sci-fi added $3.6m for $21.5m, led by an excellent hold in Germany where it fell only 20% with a $1m second weekend for $2.8m. It opens in France next weekend.
CJ ENTERTAINMENT
In its second weekend, sports drama My Annoying Brother took an estimated $4.6m in South Korea for $11.7m to date, according to ComScore.
UNIVERSAL PICTURES INTERNATIONAL
UPDATE: Russian war drama 28 Panfilovtsev recorded a $1.2m second weekend for $4.7m after ten days in play.
Opening in seven more territories, Nocturnal Animals added $1.2m from 21 territories for $8.4m to date. Spain posted the best debut with $308k from 172 sites, and the film opens in nine more territories, including Russia.
Spanish historical drama La Reina De Espana grossed $190k for a ten-day tally of $795k.
THE GIRL ON THE TRAIN
UPDATE: DreamWorks Pictures' adaptation The Girl On The Train has travelled to $95.4m from its Universal and Mister Smith Entertainment territories overseas and $170.5m worldwide.