DECEMBER 12 UPDATE: Warner Bros' Harry Potter spin-off reaches $480.7m after four weeks in play.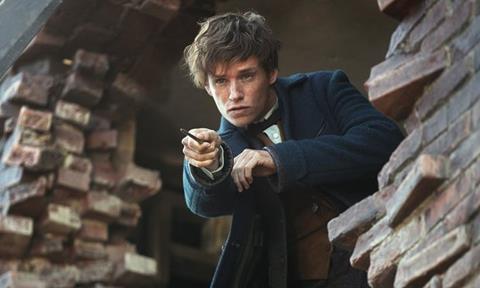 WARNER BROS PICTURES INTERNATIONAL
Ahead of Rogue One's arrival, Fantastic Beasts And Where To Find Them enjoyed one last week as the overseas leader.
The Harry Potter spin-off conjured up another estimated $33.1m from its 67 markets to lift its running total to $480.7m. Its current leading markets are China ($82.4m), the UK ($52.3m), Japan ($37.4m), South Korea ($32m) and Germany ($27.5m).
Sully travelled to $13.6m from its 23 markets for $94m to date, propelled by a healthy three-day debut of $5.5m in China from around 5,000 screens.
In its second weekend, Italy fell only 9% with $2.1m to retain top spot and reach $5.1m, the UK fell 30% with $1.6m for $5.4m and France added $1.5m for $4.9m to date.
WALT DISNEY STUDIOS MOTION PICTURES INTERNATIONAL
In its third weekend, Moana sailed to an extra $23.5m from its 32 territories for $93.8m so far overseas and $238.8m globally.
Walt Disney Animation Studios' latest posted an overall drop-off of 31% from last weekend, with the likes of France ($11.5m to date), the UK ($6m to date), China ($26.2m to date) and Mexico ($6.2m to date) enjoying strong holds.
Moana remained at number one in France, Spain, Russia, Mexico, Colombia and Venezuela, among others. Its next major releases come in Germany and Italy on December 22.
PARAMOUNT PICTURES INTERNATIONAL
Office Christmas Party started its international run in 49 territories through Paramount and Mister Smith Entertainment with an estimated $16.4m debut.
Russia led the way with a $2.3m opening from 1,000 sites to chart second, followed by Mexico on $855k from 594 sites which also saw it land in second place. The comedy opened top in Panama with $269k and also opened in the likes of Italy ($648k) and Brazil ($620k).
It opens in Thailand next weekend.
With no new openings, Allied took $4.8m from its 35 markets for $33.9m to date. Russia enjoyed a $980k second weekend for $3.3m and France added $764k for $5.8m after three weeks in play.
Jack Reacher: Never Go Back has crossed the $100m mark at the international box office following a $1.9m weekend in its 30 markets for $101.6m.
IM GLOBAL
Landing in China, Mel Gibson's Hacksaw Ridge shot to an estimated $15m from its 18 territories for $37.3m to date, according to ComScore.
UNIVERSAL PICTURES INTERNATIONAL
UPDATE: Sing made its bow in 12 territories for an overseas debut of $8.7m with eight number one openings.
Illumination Entertainment and Universal Pictures' latest animation posted a chart-topping $3.9m in Germany from 657 sites, followed by an $716k debut in Austria and a $764k opening in Norway.
It opens in Greece, Romania and the Netherlands next weekend with international dates rolling out over the next few months.
With a $500k debut in Russia, Nocturnal Animals added $1.3m from its 28 territories for $10.3m to date. The adaptation opens in Colombia and Peru next weekend.
SONY PICTURES RELEASING INTERNATIONAL
Slicing into four new markets, Underworld: Blood Wars fought to a further $9.2m from its 55 markets for an early $34.7m.
It recorded a strong chart-topping $760k debut in Thailand from 213 screens to set a new franchise record, while it added $995k in Brazil for $3.3m and $675k in Mexico for $2.6m.
Local-language Sony Production Die Vampirschwestern 3 bit into $710k from 555 screens in Germany and Austria. It marks the third and final instalment in the Vampire Sisters saga.
ARRIVAL
Arrival took $5.8m from its 45 Sony and FilmNation Entertainment markets for $48.4m to date.
From its 37 Sony markets, the critically acclaimed sci-fi delivered $4.7m for $28.1m, led by a preview-boosted $1.8m bow in France from 280 screens. In its third weekend, Germany took $765k for a local tally of $3.9m.
From its eight FilmNation Entertainment markets, Arrival added $1.06m for $20.3m to date.
LIONSGATE INTERNATIONAL
UPDATE: Awards contender La La Land started its international rollout with $4.8m debut from its six markets.
South Korea provided the majority of the opening with $4.2m ahead of openings in the Netherlands on December 22 and Australia on Boxing Day. Most markets will start releasing mid-January.
FOX INTERNATIONAL
UPDATE: With no new openings, Trolls danced to a further $4.5m from its 66 markets for $172m to date.
Australia fell only 13% with a $1.7m second weekend for $5.5m so far, while the UK ($28.3m), France ($18.3m) and Russia ($12.7m) remain the animation's top overseas markets.
Miss Peregrine's Home For Peculiar Children now stands at $191.2m ahead of its release in Italy next weekend.