Fox's adaptation posts $5.8m (£3.4m) debut, including previews, to dethrone 22 Jump Street; Warner Bros' Jersey Boys is off-key with $706,000 (£415,000) bow.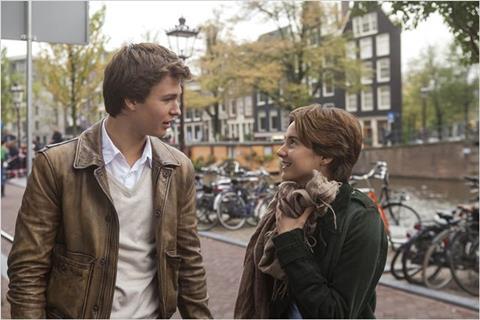 Proving savvy counter-programming to the World Cup, The Fault in Our Stars has repeated its domestic success to debut top of the UK box office.
Fox's adaptation bowed with an excellent $5.8m (£3.4m) debut, including just under $1.7m (£1m) in previews. It's worth noting that its Fri-Sun tally of $4.2m (£2.4m), at a site average of $8,133 (£4,778), would have also seen it land the top spot.
The debut ranks ahead of thematic comparison Now is Good, which opened with $540,000 (£317,451) from a smaller release at 305 sites. It also ranks ahead of the last film Shailene Woodley and Ansel Elgort starred in together, Divergent, which bowed with $3m (£1.8m) from 423 sites.
Also for Fox, X-Men: Days of Future Past fell one place to fourth as it grossed a non-final $961,000 (£564,649) for $43.9m (£25.8m), while Belle posted a second weekend of $346,000 (£203,543) for $1.8m (£1m).
Bollywood comedy Humshakals rounded off this week's top ten with a $220,000 (£129,181) debut at an average of $3,140 (£1,845).
SONY
Despite being prevented from a third straight week at the top of the chart, 22 Jump Street fell just 31% to add $2.6m (£1.5m).
Sony's comedy sequel is now up to $21.7m (£12.75m) in the UK and having surpassed 21 Jump Street's $17.2m (£10.1m) before the weekend, it's in a strong position to challenge Bad Neighbours ($27.2m/£16m) as the year's biggest comedy to date.
Also for Sony, The Art of the Steal could only manage a $13,000 (£7,867) debut from its 101 sites, but it's worth noting that not all of those sites would have had full showtimes over the weekend.
DISNEY
Dropping just 38% in its fourth weekend, Maleficent conjured up an extra $1.7m (£970,000) as it fell to third.
Disney's reimagining of Sleeping Beauty is now up to a terrific $25.9m (£15.23m) in the UK, and will shortly overtake Oz the Great and Powerful's final tally of $26m (£15.28m). £20m is still a possibility for Maleficent.
WARNER BROS
Posting another respectable hold in its fourth week was Warner Bros' Edge of Tomorrow as it fought its way to a further $877,000 (£515,000) for $11.2m (£6.6m) to date.
Landing in 440 sites through Warner Bros, Jersey Boys failed to repeat its stage success in cinemas with an off-key $706,000 (£415,000) debut.
In terms of Clint Eastwood directorial outings, that's just above J. Edgar ($703,000/£413,210 from 259) but below Space Cowboys ($967,000/£567,885 from 235). The jukebox musical will be hoping for better returns midweek.
Also for Warner Bros, Oculus fell over 50% in its second weekend to add $334,000 (£196,000) for $1.5m (£898,000), while Godzilla stomped to $172,000 (£101,000) for $29m (£17.1m) to date.
EONE
Shooting its way into 345 sites was 3 Days to Kill with a $551,000 (£324,000) debut through eOne. That marks the lowest-ever debut for director McG, but it's worth noting that it was also his smallest release, site-wise, as well.
Also for eOne, T.S. Spivet is up to $138,000 (£81,000) after ten days in play.
STUDIOCANAL
Spanish Apartment trilogy closer Chinese Puzzle started its UK run with a non-final $32,000 (£19,000) from 25 sites through StudioCanal.
Also for StudioCanal, Once Upon a Forest grossed $490 (£288) from its one site release at London's Ciné Lumière, where it plays until select shows until July 13.
SODA PICTURES
Released in nine sites through Soda Pictures, Camille Claudel 1915 recorded a UK bow of $14,000 (£8,512), including previews. That marks the best-ever UK opening for director Bruno Dumont, ahead of Hors Satan's $7,700 (£4,496) from six sites.
METRODOME
Venice 2013 award-winner Miss Violence posted a $4,500 (£2,648) UK debut from its six sites through Metrodome.
UPCOMING RELEASES
This week sees saturation releases for Universal's Mrs Brown's Boys D'Movie, Lionsgate's Chef (opens June 25) and Vertigo Films' Walking on Sunshine.
Icon's Cold in July, Dogwoof's Mistaken for Strangers and Entertainment's Seve all receive wide releases, while Curzon Film World's Under the Rainbow and IMG's A Haunted House 2 are among the films receiving a limited release.