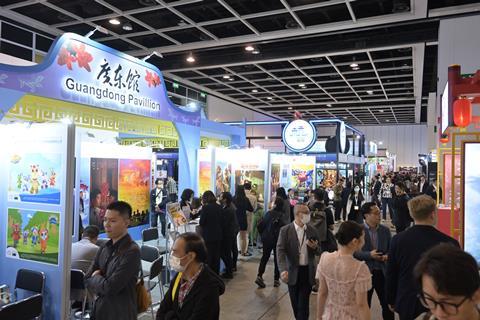 Hong Kong's Filmart and conference Entertainment Pulse assembled more than 7,300 attendees from 41 countries and regions this week (March 13-16), according to the Hong Kong Trade Development Council (HKTDC).
After three virtual editions of Asia's largest content market, the numbers were lower than the "close to 9,000 visitors" from 52 territories that attended in pre-pandemic 2019.
However, the HKTDC claimed: "The revived physical marketplace was as vibrant and active as in the past, successfully reuniting industry players from all around the globe for business partnerships."
This was supported by some of the companies in attendance, of which more than 700 exhibitors from 30 countries and regions gathered at the Hong Kong Convention and Exhibition Centre over the four-day expo.
"I feel like Filmart is as busy as it's ever been," said Felix Tsang, sales and acquisitions manager at Hong Kong-based Golden Scene, when he spoke to Screen earlier this week.
Setting a new record, the mainland China exhibitor tally at Filmart exceeded 330, including the three major streaming platforms - iQiyi, Tencent and Youku.
In 2019, 888 exhibitors from 35 territories attended, including 264 exhibitors from China.
"Filmart's first in-person edition since the pandemic brought back much-needed energy," said Thien A. Pham, founder of US-based 3388 Films.
The online Filmart portal will remain accessible until April 15, with user able to revisit content from the second EntertainmentPulse conference as well as send direct messages to other attendees through the Filmart online platform.