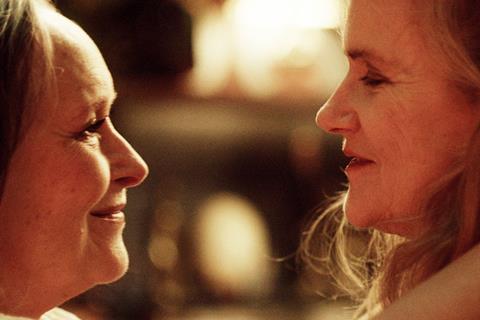 Italian director Filippo Meneghetti's debut feature Two Of Us leads the nominations in the 26th edition of France's Lumière awards, which were unveiled online today (December 14).
The awards, which are voted on by some 130 international correspondents hailing from 40 countries, are France's equivalent of the Golden Globes.
In spite of the Covid-19 pandemic, which has delayed numerous releases this year, they have retained their traditional time slot and the awards ceremony will take place on January 19, 2021, in line with previous years.
Meneghetti's Two Of Us is also France's submission to the Best International Film Category of the 2021 Oscars.
It stars Barbara Sukowa and Martine Chevallier as a lesbian couple facing up to the challenge of coming out after two decades of secret passion and companionship
It has been was nominated in six categories including best film, director and first film. Sukowa and Chevalier were also nominated together for best actress. It is also running in the best screenplay and best cinematography categories.
Other frontrunners included Emmanuel Mouret's love triangle drama Love Affair(s), with five nominations; Albert Dupontel's dark comedy Bye Bye Morons with four nominations, and François Ozon's Summer Of 85, which is the running for best film and director as well as best new actor for its two young co-stars, Félix Lefebvre and Benjamin Voisin.
A total of 77 films were eligible for consideration this year. A handful of films, the scheduled November or December releases of which but have not been able to go ahead because of the closure of cinemas in France, have also been allowed to participate.
These films included Charlène Favier's Slalom, which has been nominated for best actor (Jérémie Renier), best new actress (Noée Abita), best cinematography (Yann Maritaud) and best first film, and Tunisian director Kaouther Ben Hania's The Man Who Sold His Skin, which is running in the best international production category.
Best film
Bye Bye Morons, Dupontel
Love Affair(s) , Emmanuel Mouret
Two Of Us, Filippo Meneghetti
Summer of 85, François Ozon
The Girl With The Bracelet, Stéphane Demoustier
Best director
Albert Dupontel, Bye Bye Moron
Maïwenn, DNA
Filippo Meneghetti, Two Of Us
Emmanuel Mouret, Love Affair(s)
François Ozon, Summer of 85
Best screenplay
Stéphane Demoustier, The Girl With The Bracelet
Filippo Meneghetti, Malysone Bovarasmy, Two Of Us
Jean-Louis Milesi, Josep
Emmanuel Mouret, Love Affair(s)
Caroline Vignal, My Donkey, My Lover & I
Best documentary
Adolescents, Sébastien Lifshitz
The Tie, Etienne Chaillou, Mathias Théry
Kongo, Hadrien La Vapeur et Corto Vaclav
The Monopoly Of Violence, David Dufresne
If It Were Love, Patric Chiha
Best animation film
Calamity, A Childhood Of Martha Jane Cannary, Rémi Chayé
Marona's Fantastic Tale, Anca Damian
Josep, Aurel
Little Vampire, Joann Sfar
Best actress
Laure Calamy, My Donkey, My Lover & I
Martine Chevallier and Barbara Sukowa, Two Of Us
Emmanuelle Devos, Perfumes
Virginie Efira, Bye Bye Morons
Camelia Jordana, Love Affair(s)
Best actor
Sami Bouajila, A Son
Jonathan Cohen, Enormous
Albert Dupontel, Bye Bye Morons
Nicolas Maury, My Best Par
Jérémie Rénier, Slalom
Best new actress
Noée Abita, Slalom
Najla Ben Abdallah, A Son
Nisrin Erradi, Adam
Mélissa Guers, The Girl With The Bracelet
Fathia Youssouf, Cuties
Best new actor
Guang Huo, Night Ride
Félix Lefebvre and Benjamin Voisin, Summer of 85
Djibril Vancoppenolle, Small Country, An African Childhood
Alexandre Wetter, Miss
Jean-Pascal Zadi, Tout Simplement Noir
Best first film
Two, Filippo Meneghetti
Arab Blues, Manele Labidi
Cuties, Maïmouna Doucouré
Slalom, Charlène Favier
Tout Simplement Noir, Jean-Pascal Zadi, John Wax
Best international co-production
Abou Leila, Amin Sidi-Boumédiène
Adam, Maryam Touzani
A Son, Mehdi M. Barsaoui
The Man Who Sold His Skin, Kaouther Ben Hania
La Llorona, Jayro Bustamante
You Will Die At 20, Amjad Abu Alala
Yalda, A Night For Forgiveness, Massoud Bakhshi
Best cinematography
Hichame Alaouie, Summer of 85
Renato Berta, The Salt Of Tears
Laurent Desmet, Love Affair(s)
Yann Maritaud, Slalom
Aurélien Marra, Two Of Us
Best soundtrack
Bertrand Burgalat, Appearances
Florencia di Concilio, Calamity, A Childhood of Martha Jane Cannary
Silvia Pérez Cruz, Josep
Pablo Pico, Marona's Fantastic Tale
Rone, Night Ride