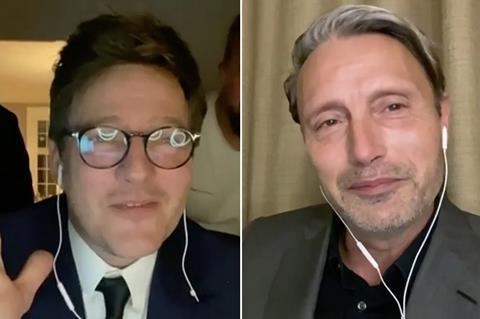 Thomas Vinterberg's Another Round swept the European Film Awards on Saturday (December 12), winning four awards including best film, director, screenplay and actor for Mads Mikkelsen.
Scroll down for full list of winners
Accepting the best screenplay prize via video link, sat alongside co-writer Tobias Lindholm, Danish filmmaker Vinterberg said: "In a time of confinement, financial crisis and death, our attempt to make a life-affirming film has somehow succeeded."
Best actor winner Mikkelsen dedicated his award to "a shining light who is not here anymore", Ida Vinterberg – the daughter of Another Round's director – who died in a car accident in 2019.
On winning the best film prize, Vinterberg said: "I want to say my daughter died while making this movie. She loved this project. She was a part of this project and was supposed to act in it… The only thing that made sense when she died was to carry on and make this movie for her. Your votes and award will honour her memory. I thank you from my heart."
Vinterberg's previous wins at the EFAs include the European Discovery prize in 1998 for Festen and best screenwriter for 2012's The Hunt, which he also wrote with Lindholm and starred Mikkelsen.
Another Round, in which four teachers test the theory that life is better lived with a constant level of alcohol in the blood, is Denmark's entry for the Oscar. It received a Cannes 2020 label and premiered at Toronto, where Samuel Goldwyn Films picked up US rights.
Further prizes saw the best actress award go to Germany's Paula Beer for her performance in Christian Petzold's Undine, adding to the Silver Bear she won at the Berlinale, where the film premiered.
The documentary prize was awarded to Alexander Nanau's Collective, which follows a team of investigative journalists as they work to uncover a vast health-care fraud in Romania. The film, which debuted at Venice 2019, is Romania's Oscar entry. Magnolia has US rights.
As previously announced, the first EFA Award for Innovative Storytelling was presented to Northern Irish filmmaker Mark Cousins, recognising his epic, 14-hour documentary series Women Make Film: A New Road Movie Through Cinema.
Virtual ceremony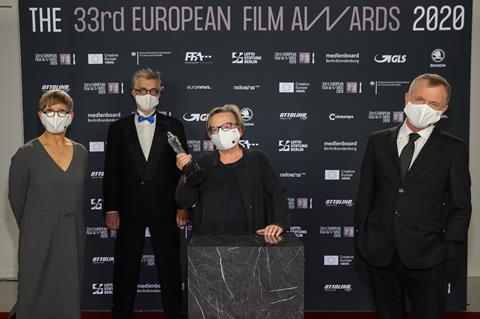 The 33rd edition of the annual awards was set to take place in Reykjavik, Iceland but was shifted to a virtual event as a result of the pandemic and hosted from the European Film Academy's base in Berlin.
The two-and-a-half hour ceremony, streamed from Berlin's Futurium museum, was hosted by EFA director Marion Döring and EFA president Wim Wenders, who both step down at the end of the year having held their respective roles since 1996.
A farewell tribute to the duo included video messages from Ken Loach, Volker Schlondorff, Julie Delpy, Stephen Frears, the Dardenne brothers, Liv Ullmann, Claes Bang, Dieter Kosslick, Ben Kingsley, Susanne Bier and Stellan Skarsgard as well as German chancellor Angela Merkel.
They shared hosting duties with EFA chairman Mike Downey and Polish filmmaker Agnieszka Holland, who it was recently announced will take over as president from Wenders.
The event saw the four EFA execs attend in person as more than 40 actors and filmmakers, including Mikkelsen and Falling actor/director Viggo Mortensen, were beamed onto giant screens via their homes (or, in the case of Mortensen, a hotel room in London where he is promoting Falling).
The ceremony, which also included in-person awards presenters such as Phantom Thread star Vicky Krieps, French-Iranian filmmaker Emily Atef and Berlin Alexanderplatz actress Annabelle Mandeng, only experienced a few technical difficulties such as communication glitches with the virtual attendees. The event also streamed a live musical performance from Reykjavik, where the EFAs are set to return for the 35th edition in 2022.
Comedy, animation winners
Online ceremonies were spread across the week, with winners in the technical categories revealed on Wednesday (December 9) including two prizes for Giorgio Diritti's Italian drama Hidden Away.
Last night, the prize for best comedy was awarded to The Big Hit, by French filmmaker Emmanuel Courcol, in which a struggling actor takes a troupe of convicts on tour with a performance of Waiting For Godot.
That ceremony also saw the best animated feature awarded to Josep, directed by French cartoonist Aurel, in which a dying gendarme recalls his encounter with Catalan artist Josep Bartolí in a French concentration camp after the Spanish Civil War. The Big Hit and Josep were both recipients of a Cannes 2020 label.
On Thursday (December 10), the European University Film Award was won by documentary Saudi Runaway, by Swiss-German filmmaker Susanne Regina Meures. The film, which debuted at Sundance, follows a young woman in Saudi Arabia who documents her attempt to flee the country before her arranged marriage.
The 34th European Film Awards is planned to take place in Berlin in 2021.
EFA 2020 winners
European Film
Another Round, dir. Thomas Vinterberg
European Documentary
Collective, dir. Alexander Nanau
European Comedy
The Big Hit, dir. Emmanuel Courcol
European Director
Thomas Vinterberg for Another Round
European Actress
Paula Beer in Undine
European Actor
Mads Mikkelsen in Another Round
European Screenwriter
Thomas Vinterberg and Tobias Lindholm for Another Round
European Discovery - Prix Fipresci
Sole, dir. Carlo Sironi
European Animated Feature
Josep, dir. Aurel
EFA Award for Innovative Storytelling
Mark Cousins
European Cinematography
Matteo Cocco for Hidden Away
European Editing
Maria Fantastica Valmori for Once More Unto The Breach
European Production Design
Cristina Casali for The Personal History Of David Copperfield
European Costume Design
Ursula Patzak for Hidden Away
European Make-Up and Hair
Yolanda Piña, Félix Terrero and Nacho Diaz for The Endless Trench
European Original Score
Dascha Dauenhauer for Berlin Alexanderplatz
European Sound
Yolande Decarsin for Little Girl
European Visual Effects
Iñaki Madariaga for The Platform
Eurimages Co-Production Award
Luis Urbano
European Short Film
All Cats Are Grey In The Dark, dir. Lasse Linder
European University Film Award
Saudi Runaway, dir. Susanne Regina Meures