A total of £2.2m ($3.7m) to be invested in London talent over the next three years; nearly £1m ($1.6m) to be spent on archive project.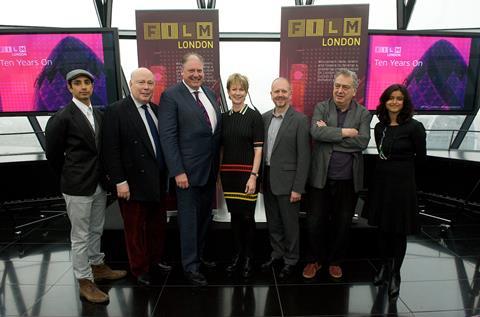 Film London has launched the next phase of its low-budget filmmaking scheme, Microwave, at a celebration of its 10th anniversary.
Film London Microwave will be backed by the British Film Institute (BFI) for the first time in addition to existing partners BBC and Creative Skillset, and will hold a purse of £2.2m ($3.7m) to be invested in London's talent over three years.
It follows a first slate that included Hong Khaou's Lilting, which stars Ben Whishaw and picked up a cinematography award at Sundance earlier this year, as well as Shifty and Ill Manors..
The new iteration of Microwave will develop and train up to 36 filmmaking teams over three years, and see filmmakers undergo a more intensive period of development to hone scripts, stories and skills in preparation for production, and have access to experienced industry mentors.
The scheme will then produce up to six features, at production budgets of £150,000 ($250,000), with additional funding ring fenced to support distribution.
The scheme will long-list at least 50% BAME (black and minority ethnic) filmmakers as part of its diversity pledge.
Adrian Wootton, CEO of Film London and the British Film Commission, said: "We are delighted to be launching the next phase of Film London Microwave today. Its unique set up, providing funding, training and access to industry mentors, has proved to be a hugely successful combination."
David Parfitt, chairman of Film London, said: "London has cemented its reputation as a global production centre, and I am delighted that Film London has been central to that transformation over the last 10 years".
Film Culture
It was also announced that more than £1.7m ($2.9m) will be invested in London's film culture and film heritage over four years, with a specific focus on the outer boroughs where provision is currently under-served.
Funded by the Heritage Lottery Fund, London: A Bigger Picture is a three-year project to promote greater engagement in archive film, uncovering, protecting and sharing more of London's rich film heritage.
Also supported by the BFI and Creative Skillset, the £950,000 ($1.6m) project will engage over a million Londoners, working specifically with 15 outer boroughs, giving local communities the opportunity to access and learn about historic film and encourage them to share their own home movie records of the region's past.
In addition, Film Hub London – launched in March as part of the BFI Film Audience Network – will receive £800,000 ($1.35m) funding over four years, aiming to grow a rich film viewing culture across the whole of London. Working with more than 120 organisations across 31 London boroughs, the Hub is launching a new £50,000 ($84,000) fund specifically to engage young people.
New AMC series
At Film London's 10th anniversary celebrations, held at London's Gherkin building, it was also announced that AMC, the US cable network behind Mad Men and Breaking Bad, will shoot the pilot for Knifeman starring Tim Roth in London.
The show is based on Wendy Moore's biography of 18th-century surgeon John Hunter and will be directed by Craig Zisk. Rolin Jones (Low Winter Sun) wrote the pilot script.
It follows the shooting of 24: Live Another Day in the capital, which sees Kiefer Sutherland's Jack Bauer return to fight terrorists in London and debuted worldwide on Monday (May 5). Shooting for more than six months, with a crew of 130, supplemented by over 500 temporary crew and a UK cast of approx 150 plus thousands of extras, it has a total production spend of approximately £37m ($62.3m).
London has recently hosted filming of features include The Man from U.N.C.L.E., Night at the Museum 3 and Paddington.
Superhero sequel Avengers: Age of Ultron is now in production, soon to be joined by another action sequel, London Has Fallen, starring Gerard Butler and Morgan Freeman).
The city will be seen in upcoming releases Edge of Tomorrow, starring Tom Cruise, and the Wachowski's Jupiter Ascending, released in May and July respectively.