Includes the first award winner from BAME filmmaker scheme, who will join director David Yates on the set of his next feature.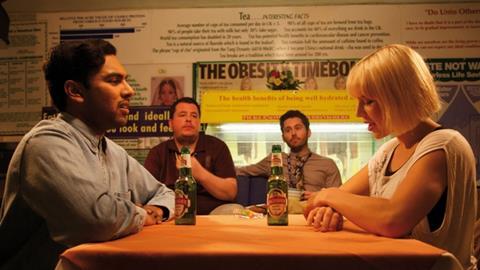 Film London staged its London Calling Awards last night, showcasing the 24 filmmaking teams who made a short film through the London Calling and London Calling Plus schemes.
New this year, London Calling Plus produced five shorts by Black, Asian and Minority Ethnic (BAME) filmmaking teams, delivered as part of the BFI NET.WORK for supporting new talent.
The films were assessed by Harry Potter director David Yates, who selected Sarmad Masud as the winner with his film Two Dosas. Sarmad will now join Yates on the set of a Tarzan, which he is currently shooting in the UK.
A total of 19 filmmakers also competed for the London Calling Jury Award, worth £2,000.
This was selected by a jury of industry representatives including BAFTA-winning producer Stephen Woolley, who presented the award. Some Candid Observations on the Eve of the End of the World, directed by John Howlett, was announced as the winner.
Other members of the jury were Chris Collins, senior development and production executive of the BFI Film Fund; Finn Halligan, film critic at Screen International; Deborah Sathe, Film London's head of talent development and production; and Simon Young, director of acquisitions, Shorts International.
On selecting the winner, the jury said: "Candid is a fresh and imaginative short film which contains a genuine surprise for its audience. It is cleverly directed and edited with great performances from a talented cast. The jury was filled with praise for a short that both moved them and made them laugh."
All 24 films were screened as part of the award ceremony and a selection of shorts will be screening as part of the London Calling programme at this year's BFI London Film Festival on Oct 16.
The inaugural DoP Award for best cinematography was awarded to Keidrych Wasley for Rose, who receives £10,000 worth of equipment towards his next film.
London Calling and London Calling Plus are supported by the BFI NET.WORK, Creative Skillset and London borough partners.
Next funding round
Adrian Wootton, CEO of Film London and the British Film Commission, used the ceremony to relaunch the funds, announcing a London-wide call for applications with a deadline of Oct 22, 2014.
London's filmmakers – from those starting out to more established talent with a track record across film, television or theatre – are encouraged to apply.
As well as funding, Film London, with support from Creative Skillset, provides training and mentors for all greenlit filmmaking teams.
Previous mentors have included Sally El Hosaini (My Brother The Devil), Carol Morley (Dreams of A Life), Hong Khaou (Lilting) and Josh Appignanesi (The Infidel).
London Calling will produce up to 19 short films with awards of up to £4,000. London Calling's London boroughs partners are Haringey, Kensington & Chelsea, Lambeth, Redbridge, Southwark, Waltham Forest and Wandsworth, who provide additional opportunities and support to their filmmakers as part of the scheme.
London Calling Plus will produce five shorts, offering £15,000 to emerging filmmaking talent. The fund will again target BAME talent, specifically addressing the fall in minority professionals working in the production industries as reported by Creative Skillset's census.
Londoners can find out more about the schemes and how to produce a strong application at one of the eight roadshows taking place over the next six weeks.