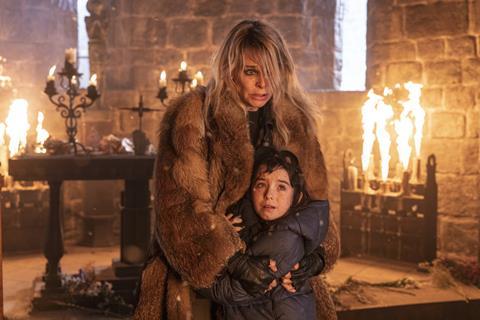 Barcelona-based Filmax, one of Spain's leading entertainment companies, has lined up its next genre production, El Nido, the third fiction feature from Hugo Stuven following Solo and English-language Anomalous.
A psychological thriller feature, El Nido (which translates to 'the nest') tells the story of Marta, who is obsessed with protecting her family from the terrifying outside world and keeps her mother and her young son locked in their home. Everything seems peaceful until, one day, a man arrives, looking to destroy everything Marta has built. Shooting is scheduled for the last quarter of 2023, and casting will soon be announced.
Spanish sales, distribution, exhibition and production outfit Filmax celebrates its 70th anniversary with a line-up of 16 titles in different stages from advanced development to pre-production. In addition to the company's flagship genre titles the slate includes animated films, comedies, romcoms, social dramas and TV series.
Of the company's longevity, Filmax president Carlos Fernandez said: "There are no secrets. We always try to put soul in everything we do, you can call it determination. Looking back, I think we managed to anticipate in some cases and to adapt in others to the multiple market changes within the audiovisual sector. We went from being a local cinema distributor to becoming a producer of cinema and TV through a multiplicity of genres."
Founded in 1953 by Turk Alfredo Talarewitz, formerly a head of sales for Metro Goldwyn Mayer, Filmax was specialised in the distribution of Hollywood films. Two years later, it teamed up with Balcázar Producciones Cinematográficas to make its first original productions.
In the 1960s, Filmax signed a deal with Paramount Pictures to distribute the studio's films in Spain and, in 1987, the company was bought by Julio Fernández. (It is now run by Julio's brother Carlos, who became president in 2010, and his daughter Laura). Over the last 20 years, the company has ramped up the creation of its own content, creating a new genre label, Fantastic Factory, run by Brian Yuzna. Films produced under this umbrella include Yuzna's Faust: Love of the Damned, Jaume Balagueró's Darkness, and Paco Plaza's Romasanta.
During that time, Filmax also expanded its activities to exhibition and international sales. Hits have included Balagueró's and Plaza's franchise [REC]; Brad Anderson's The Machinist, starring Christian Bale and Jennifer Jason Leigh; and Balagueró's Muse. So far, Filmax has produced more than a hundred films and distributed over a thousand.
Upcoming Filmax titles include the highly-anticipated The Chapel, the second feature of Carlota Pereda after her hit Piggy which will world premiere in Sitges' International Fantastic Film Festival in October. Other forthcoming features are Patricia Font's The Teacher Who Promised The Sea, about a teacher destined for a small village shortly before the military coup by dictator Francisco Franco in 1936; and Benito Zambrano's migrant drama Jumping The Fence. Filmax acted as co-producer for these latter two titles.
In terms of international distribution, recent Filmmax titles include Manuel Martin Cuenca's Andrea's Love, Patricia Ortega's Mamacruz, Paula Ortiz's Teresa, and The Night My Dad Saved Christmas by Spanish comedy maestro Santiago Segura.
"All our production has always had an international scope," says Fernández. "We have become a company very open to the market and have agreements with most Spanish producers, sometimes doing local and/or international distribution and, in some cases, also co-producing.
"I think another value of Filmax is that we are a family business, which allows us to think long term."