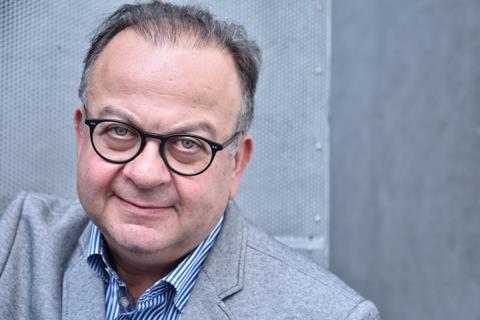 The 28th edition of Filmfest Hamburg opened on Thursday evening with the premiere of Oskar Roehler's tribute to New German Cinema's iconic director Rainer Werner Fassbinder, Enfant Terrible,. It closes on October 3 with this year's Golden Lion winner Nomadland by Chloé Zhao.
Festival director Albert Wiederspiel, who is celebrating his 17th year in the role, explains how he hopes the festival will help to bring audiences back to cinemas, how the event has adapted to the city's social distancing guidelines and the launch of Streamfest Hamburg.
This year's edition been organised under the motto 'The Show Must Go On. How are you achieving that within social distancing guidelines?
That's one of the mottos along with 'Grit Your Teeth and Go For It' and 'At Last Back in the Cinemas'. We had already decided with the city authorities back in May that we wanted the Filmfest to take place against all odds. We see our role this year as helping to bring people back into the cinemas because filmgoers have been rather hesitant about taking that step. We realised, however, that the available seating in the cinemas would be restricted, and so planned from the outset for a hybrid edition with 49 of the films also being streamed within Germany as Streamfest Hamburg. Yet there won't be an unlimited number of streaming tickets being sold. The Abaton cinema, for example, has 260 seats, and we are only allowed to sell 90 [for the film's physical screening]. The other 170 tickets are then available for streaming.
Will there also be a hybrid solution for the programme of industry events?
We have moved these talks to the Cinemaxx 3 cinema because we can then accommodate up to 90 people. I am really curious to see how things works out. On the one hand, the industry is really hungry to meet up with other people again, but there are some who still have concerns, so we will have the alternative of being able to follow them online.
Did you pick up any practical tips from other festivals over the past months about how to stage this year's Filmfest?
We've done things our own way. At the same time, we all have a longing to return to a normal festival year where one can travel, meet people and discover films. As [Filmfest head of programming] Kathrin Kohlstedde said, it was very lonely taking part in the Cannes virtual market because you sat at home and didn't have anyone you could talk with after the film was finished. In short, there wasn't any exchange.
How did you select films without being able to visit festivals since the Berlinale?
We decided very early on to reduce the number of films we would show by half, from the usual 140 to around 70 and, as an exception for this year, to programme films from this year's Berlinale and also not insist on German premieres.
What are your personal highlights from this year's selection?
We have 20 debuts in the programme because I think it should be one of the core goals of a film festival to introduce new talents to our audiences. They include first works by such prominent names as [German actors] Moritz Bleibtreu [Cortex] and Bjarne Mädel [Sorensen's Fear], alongside Fanny Liatard and Jeremy Trouilh Cannes Label debut Gagarine, and Suzanne Lindon's Spring Blossom from France.
In addition, we are continuing the 'Contemporary Cinema in Focus' sidebar, which we launched last year [by focusing on] Lav Diaz and Céline Sciamma. This year, we have North and South America represented with Chile's Pablo Larrain and Kelly Reichardt. They are important filmmakers in contemporary cinema, but are not yet that well known in Germany. We want to remedy that by showing their latest films —Ema and First Cow respectively — as well as a selection of past works, and we will also have one-hour recorded conversations with them available to watch online.
Are you expecting many filmmakers to come to Hamburg to present their films in person?
The current situation has meant that we have only been able to invite the European filmmakers and, for the others, we have recorded interviews with the directors in advance to show in the cinemas and online.