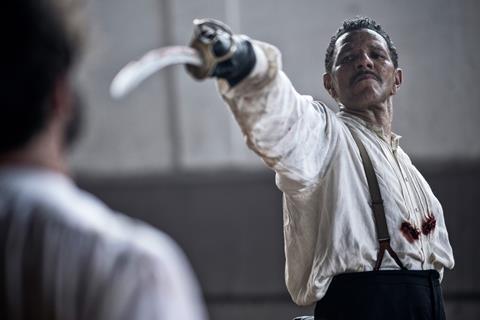 Filmest München has secured six world premieres for its upcoming 40th anniversary edition, including Vincent Perez'sThe Edge Of The Blade and Leo Leigh's UK comedy drama Sweet Sue, recently acquirred by Curzon.

The festival in Munich has long been a staging ground for the world premieres of German films but is now looking to establish itself as a launchpad for more international titles, building on last year's world premiere of Marcelo Gomes' Brazilian drama Paloma.
Swiss actor-director Perez will travel to Munich with Gaumont's production of his 19th century fencing drama The Edge Of The Blade, starring Clément Lacaze and Marie-Rose Astié. It marks his return to filmmaking for the first time since 2016's Alone In Berlin, which premiered in competition at the Berlinale.
Meanwhile, UK director Leigh will present his fiction feature debut Sweet Sue, which is being handled by Hanway Films and follows acclaimed documentaries Beautiful Liverpool and Swansea Love Story.
Further debuts set to premiere in Munich include the LA writer-director team Sophia Sabella and Pablo Feldman's coming of age drama Edge Of Everything and Israeli screenwriter-editor Assaf Lapid's The Return From the Other Planet about Yechiel De-Nur, who published several books about his experiences of the Holocaust under the pseudonym Ka-Tzetnik.
Lapid's documentary was produced by Israel's Black Sheep Film Productions with Cologne-based 2Pilots Film Productions, which will also be at the Filmfest with the world premiere of Christina Ebelt's Monster Inside in the New German Cinema sidebar, details of which were announced yesterday (June 6).
The festival will also premiere Canadian director Bernard Émond's latest fiction feature A Regrettable Woman, based on a short story by Luigi Pirandello and set during the Great Depression, which is being handled internationally by Sphere Films.
The sixth world premiere is UKI by Chinese queer media artist pioneer Shu Lea Cheang and is set in a dystopian world of 2060 with a cyberpunk aesthetic. It will be screened as part of a five-film homage being staged by the Filmfest in cooperation with Munich's Museum Brandhorst.
The 40th anniversary edition of Filmfest München will run June 23 to July 1, opening with Maryam Keshavarz's culture clash comedy The Persian Version and will feature a retrospective dedicated to Austrian filmmaker Jessica Hausner, including a screening of her latest film Club Zero following its premiere in Competition at Cannes, and the presentation of this year's CineMerit Award to the German actress Barbara Sukowa.