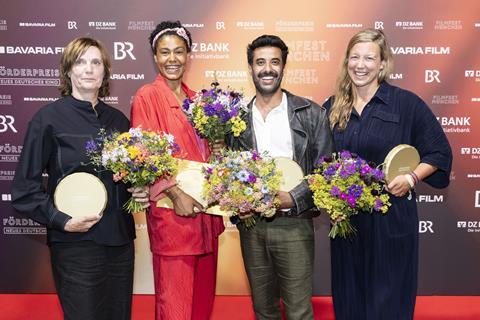 Tunisian filmmaker Kaouther Ben Hania's experimental mix of documentary and fiction Four Daughters won the main €50,000 ARRI award for best international film in the CineMasters competition at Filmfest München on July 1.
The film's German co-producer Thanassis Karathanos of Berlin-based Twenty Twenty Vision Filmproduktion quipped he had written so many cheques to ARRI in the past and it was nice to be having one now coming in the other direction, when accepting the award at the festival's closing ceremony,
Four Daughters is the second collaboration between Karathanos and Martin Hampel's Twenty Twenty Vision and Ben Hania after her 2020 film The Man Who Sold His Skin. It is being released in French cinemas by Jour2Fete this week (July 5) and will be distributed in Germany by Rapid Eye Movies. It premiered in Competition in Cannes in May.
Twenty Twenty Vision also produced Sylvie Michel's third feature More Than Strangers, for which Michel picked up the German Cinema New Talent award for best directing the night before on June 30. The film is a co-production with Germany's Pallas Film and Greece's View Master Films. W- Films has German rights.
The New Talent award is aimed at filmmakers who have made between one to three films.
In the New German Cinema section, three awards were handed out to honour achievements in the areas of production, screenwriting and acting. Uschi Feldges of Berlin-based Basis Berlin Filmproduktion garnered the award for best production for her work on Iranian-born director Behrooz Karamizade's drama Empty Nets which is now having its international premiere in Karlovy Vary this week.
Clashing Differences' writer-director Merle Grimme was presented with the award for best screenplay which also includes participation in a mentoring programme organised by Bavaria Fiction.
Israeli-born actor/theatre director Dor Aloni was recognised for his performance in Henrika Kull's fourth feature Salty Water.
Meanwhile, the €15,000 CineVision competition award for the best international newcomer film went to Brazilian co-directors Joao Salaviza and Renée Nader Messora for The Buriti Flower which had premiered in this year's Un Certain Regard in Cannes.
Omen, the debut feature by Belgian-Congolese rapper Baloji about belief in witches and sorcerers in Africa, picked up the second annual €10,000 CineRebels competition award for daring work by international auteurs.
Further awards included the €2,500 CineKindl award to the best film at Munich's Kinderfilmfest, which was presented to Sweden's Johan Rosell and screenwriters Sofie and Tove Forsman for Nelly Rapp - The Dark Forest.
The Fipresci prize for a film in the New German Cinema strand was awarded to Henning Beckhoff's debut feature Fossil, while Aki Kaurismäki's Fallen Leaves won the audience award in the main section and Marcus H. Rosenmüller's Pumuckl's New Adventures won the Kinderfilmfest audience award.
The Filmfest also hosted the final session of the Munich Film Up! mentoring and residency programme which is organised by the HFF with Pop Up Film Residency for six filmmakers from around the globe. The filmmakers pitched their debut feature projects to an international jury including Romanian producer Ada Solomon and Singaporean producer Jeremy Chua, with cash prizes of €5,000 and €3,000 donated by the Kirch Foundation going to Chinese Viv Li's road movie A Hazy Romance and Iranan Sadeq Es-haqi's drama Double Blind.
Rising admissions
The Filmfest reported at the weekend that 58,000 people had attended the opening film and festival programme over the following eight days. This was up from a total of 50,000 last year and a fitting send-off for director Diana Iljine who is stepping down from heading the festival at the end of September.
Traditionally the last major German film industry gathering before the summer break, Filmfest München delivered a packed programme of panels and workshops for professionals as well as a plethora of receptions and cocktails hosted by the likes of Netflix, UFA Fiction, ZDF, Arte, and FFF Bayern. Festival guests could also network during early morning yoga and wild swimming sessions or during a raft ride down the river Isar as well as at the daily happy hours.
Conversations over steins of beer and sausages included reaction to the surprise announcement by Babylon Berlin producer Sky Deutschland that it is to stop producing Originals series. However ARD's subsidiary Degeto, X Filme Creative Pool and Beta Film have said they are committed to a fifth season of the series which has been sold to more than 140 countries.
There was also chatter about the future of Berlinale's artistic director Carlo Chatrian and the possible replacement for outgoing executive director Mariette Rissenbeek (after 2024) well as what could be in store for Munich now artistic director Christoph Gröner will be in overall charge as interim director for the next two editions of the Filmfest.
What looks likely is that Gröner will have his work cut out for the 41st edition which is expected to run from June 28 to July 6 2024, since the festival will then be taking place in the middle of the UEFA European Championships (June 14 to July 14), Germany's first major tournament as hosts since the 2006 FIFA World Cup.