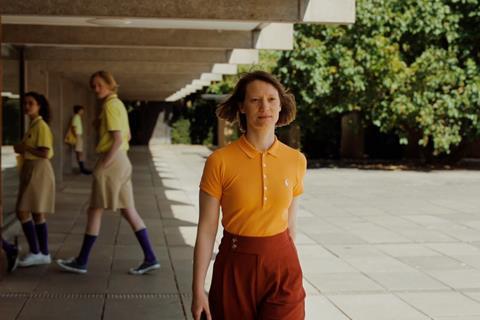 Films by Jessica Hausner, Elegance Bratton and Sebastian Silva are among 36 titles selected for the Filmfest München's three international competition strands, CineMasters, CineVision and CineRebels. The festival runs June 23-July 1.
CineMasters
Hausner's Club Zero will be joined by another four Cannes competition titles - Aki Kaurismäki's Fallen Leaves, Marco Bellocchio's Kidnapped, Kaouther Ben Hania's Four Daughters, and Hirokazu Kore-eda's Monster - to screen in Munich's CineMasters competition for the €50,000 ARRI Award which is presented to the producers of the best international film.
The 12-title line-up also includes two more Cannes premieres - Lisandro Alonso's Eureka and Amat Escalante's Lost In The Night (both in the Cannes Premiere section) - as well as Saela Davis and Anna Rose Holmer's psychological drama God's Creatures and veteran Canadian filmmaker Bernard Émond's Une Femme Respectable which will be having its world premiere in Munich.
Kore-eda's 2022 Cannes competition film Broker was the CineMasters competition's award-winner last year.
CineVision
Another 12 titles will vie for the CineVision competition's award for best international film by an emerging director, including Elegance Bratton's The Inspection and Leo Leigh's debut feature Sweet Sue, Félipe Galvez's historical thriller The Settlers, Joao Salaviza and Renée Nader's The Buriti Flower, and Savannah Leaf's coming of age tale Earth Mama which had its world premiere at this year's Sundance Film Festival.
The €15,000 CineVision Award, sponsored by the Motion Picture Licensing Company, was won last year by Charlotte Wells' Aftersun.
CineRebels
Meanwhile, Sebastián Silva's black comedy Rotting In The Sun, Amanda Nell Eu's body horror film Tiger Stripes and Agniia Galdanova's documentary portrait of the Russian performance artist Gena Marvin Queendom have been selected for the CineRebels competition which is dedicated to "format breakers [and] film adventurers".
The 12-title line-up competing for the €10,000 award also includes Argentine director-cinematographer Manuel Abramovich's mixture of fiction and documentary Pornomelancholiá, Estonian filmmaker Anna Hints' Sundance winner Smoke Sauna Sisterhood, and Chinese queer media artist Shu Lea Cheang's UKI which will world premiere at the Filmfest.
Launched last year, the first CineRebels Award went to the Slovak filmmaker Mira Fornay for her third feature Cook F**k Kill.
The winners of this year's competitions will be announced at an awards ceremony held before the Filmfest's closing film on Saturday, July 1.
World premieres in Spotlight sidebar
World premieres of Markus Goller's One For The Road, starring Nora Tschirner and Frederick Lau, and Boris Kunz's near future thriller Paradise, produced by Munich-based NEUESUPER for Netflix, are among 29 titles selected for the Filmfest's Spotlight section which focuses on star-studded films and genre highlights.
The sidebar will also feature the German premieres of Tanel Toom's sci-fi thriller Last Contact, Hafsteinn Gunnar Sigurdsson's black comedy Northern Comfort, Jin-yeong Kim's K-horror The Other Child, and Sylvian Desclous' political thriller Grand Expectations.
International Independents
In addition, the Filmfest's artistic director Christoph Gröner and his programming team have put together an eclectic line-up of cinema from outside the mainstream for Munich's International Independents section.
The 28 titles screening there will include Mihai Mincan's To The North, Trevor Anderson's Before I Change My Mind, Erica Tremblay's Fancy Dance, and Marta Savina's The Girl From Tomorrow.