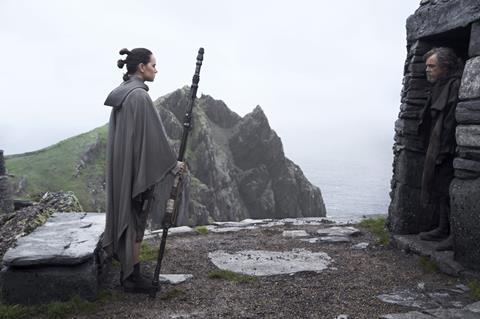 UK filmmaker Gary Sinyor (The Bachelor), director of independent thriller The Unseen, has taken out a print advert in UK national The Guardian in which he asks Disney CEO Bob Iger to release 'just one cinema screen in central London' for his movie which is due in cinemas [Dec 15] the same weekend as Star Wars: The Last Jedi.
The tongue-in-cheek ad is below.
Low-budget film The Unseen was reportedly made with a crew of just eight people. The film, starring Jasmine Hyde, Richard Flood and Simon Cotton, follows the story of a couple who lose their son in a tragic accident, only to then be haunted by his voice.
"The new Star Wars film will be on in every cinema complex on nearly every screen and for nearly every performance," claimed Sinyor.
"One small screen in central London would have a negligible effect on them [Disney] but means a huge amount to an independent British feature film. With such outstanding reviews for The Unseen a direct appeal to the head of Disney to release a screen was the obvious thing to do."
Martin Myers at Miracle Communications is handling the release of The Unseen, which has secured a handful of cinema-on-demand slots via Ourscreen outside London's zone 1 and in other UK cities. Those screenings are dependent on public pre-buying tickets online.
"We would have normally been able to secure evening screenings in Central London and other obvious targets such as Manchester where half the film is set, but the major cinema chains pulled their screens from the Ourscreen line up," added Sinyor.
Screens for independent films are generally at a premium and the release of a Star Wars instalment poses unique challenges for distributors and programmers.
However, this time around distributors are not running as scared as they were of The Force Awakens two years ago. Also out on the same weekend as The Last Jedi are Fox animation Ferdinand 3D, action-thriller Shot Caller, Irish title Song Of Granite, Chinese dramas Mountains May Depart and Youth, documentaries The Prince Of Nothingwood and Mountain and Portuguese-language movie Bingo: The King Of The Mornings.
Jumanji: Welcome To The Jungle and Pitch Perfect 3 are due out the week after.