Warner Bros' Suicide Squad becomes the seventh film of 2016 to hit the £30m mark.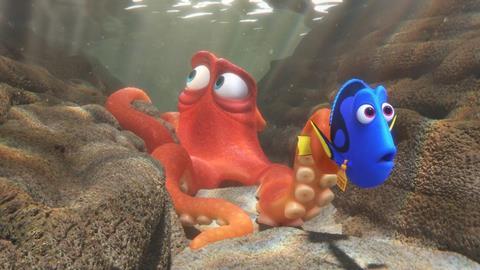 UK TOP FIVE
| Ranking | Film/Distibutor | Weekend gross | Running total |
| --- | --- | --- | --- |
| 1 | Finding Dory (Disney) | $1.96m (£1.5m) | $47.5m (£36.3m) |
| 2 | Bad Moms (Entertainment) | $1.93m (£1.48m) | $2.36m (£1.8m) |
| 3 | Suicide Squad (WB) | $1.66m (£1.27m) | $40.5m (£30.97m) |
| 4 | War Dogs (WB) | $1.3m (£1m) | $1.3m (£1m) |
| 5 | The Purge: Election Year (Universal) | $1.05m (£806,129) | $1.32m (£1.01m) |
(Note - Dollar conversions are based on today's rates)
DISNEY
Finding Dory just kept on swimming as the UK's number one film over the Bank Holiday weekend.
Disney's latest Pixar offering fell 48% with a $1.96m (£1.5m) fifth weekend seeing it remain at the top of the UK box office, after reclaiming the top spot last weekend. It is now up to a strong $47.5m (£36.3m) following a Monday [Aug 29] haul of $615,000 (£470,000).
As expected, it became the biggest animation of the year to date before the weekend, and currently ranks as the sixth biggest Pixar outing with it soon to overtake Finding Nemo ($49m/£37.5m) and Monsters Inc ($49.6m/£37.9m).
Also for Disney, Pete's Dragon fell 50% on its way to a $523,000 (£400,000) third weekend for a low-key $4.6m (£3.5m) to date, including Monday.
ENTERTAINMENT
The week's highest new entry came in the form of Bad Moms as it charted second.
Entertainment's comedy enjoyed a healthy $1.93m (£1.48m) debut, including previews, from its 463 sites, marking a decent site average of $4,170 (£3,189). Including Monday, it's up to $2.36m (£1.8m).
Bad Moms will soon overtake the lifetime result of directing duo Jon Lucas and Scott Moore's debut feature, 21 & Over.
WARNER BROS
Suicide Squad has become the seventh film of 2016 to hit the £30m mark at the UK box office.
Warner Bros' latest DC Entertainment adaptation dropped 50% as it added $1.66m (£1.27m) for a healthy $40.5m (£30.97m) after four weeks in play. It's also now cracked the top ten superhero results of all time, overtaking Man Of Steel.
Also for Warner Bros, War Dogs journeyed to a $1.3m (£1m) UK debut from its 483 sites. Comparisons are tricky as it's less of an out-and-out comedy than expected from director Todd Phillips, but it's a solid start.
Lights Out scared up a $730,000 (£558,000) second weekend for $3.5m (£2.64m) after ten days in play.
UNIVERSAL
Having been pushed back in the UK, Universal's The Purge: Election Year posted a slightly disappointing $1.05m (£806,129) from its 444 sites.
That's down on the openings of both previous instalments in the series which enjoyed £1m+ debuts. Election Year stands at $1.32m (£1.01m) as of Monday and faces a challenge to overtake The Purge's $4.6m (£3.5m) result, the current lowest of the series.
Also for Universal, Jason Bourne shot to a $956,000 (£730,670) fifth weekend for $28m (£21.38m) so far. It will likely fall just short of The Bourne Ultimatum's $31.4m (£24m).
The Secret Life Of Pets has now amassed an excellent $44.8m (£34.26m), while Popstar: Never Stop, Never Stopping unsurprisingly struggled to a soft $41,000 (£31,128) UK bow from its 103 sites.
EONE
The BFG marched to a further $860,000 (£657,460) from its 551 sites in its sixth weekend.
eOne's Roald Dahl adaptation is now up to a terrific $35.7m (£27.27m) in the UK (excluding Monday), and is now director Steven Spielberg's fourth-best outing having overtaken The Lost World: Jurassic Park.
Also for eOne, David Brent: Life On The Road couldn't rebound from its relatively soft opening, falling more than 60% with $664,000 (£508,044) from its 524 sites.
Excluding Monday, The Office spin-off has travelled to $3.7m (£2.82m) and could struggle to hit £5m.
LIONSGATE
Mechanic: Resurrection recorded a $665,000 (£508,715) UK debut from its 295 sites through Lionsgate.
That's down on The Mechanic's $1.21m (£921,554) bow from 301 sites, but is ahead of a number of Jason Statham solo outings, including Killer Elite ($629,000/£481,143 from 299) and Homefront ($576,000/£440,134 from 295).
Also for Lionsgate, Nine Lives fell more than 50% (excluding previews) on its way to $324,000 (£247,374) for $1.76m (£1.34m) to date, while Nerve has now amassed $2.9m (£2.22m) following a $172,000 (£131,227) third weekend.
STUDIOCANAL
Dropping a steady 45%, Studiocanal's Swallows And Amazons sailed to a $485,000 (£371,176) second weekend.
The adaptation enjoyed a prosperous first seven days at the UK box office as it took in $1.81m (£1.39m), meaning it has now reached $2.3m (£1.76m) after ten days in play. It should enjoy decent returns this week too before the school holidays end.
Also for Studiocanal, acclaimed documentary Tickled whipped up $21,000 (£16,234) for $85,000 (£64,815) after two weeks in play.
FOX
Julieta posted the third-best UK debut for director Pedro Almodóvar through Fox/Pathe.
The romantic drama grossed a non-final $456,000 (£348,149), including previews, from its 110 sites. That's behind only Volver ($568,000/£433,283 from 87) and The Skin I Live In ($477,000/£364,109 from 127).
Including Monday, Julieta stands at $567,000 (£432,936).
Also for Fox, Mike And Dave Need Wedding Dates stands at $3.2m (£2.42m) following a $132,000 (£100,913) third weekend.
SODA PICTURES
In its second weekend, Soda Pictures' The Childhood Of A Leader grossed $32,000 (£24,288) for $152,000 (£116,093) to date.
UPCOMING RELEASES
This week sees saturation releases for Sony's Sausage Party and Lionsgate's Brotherhood (out now), while Warner Bros' Cafe Society and Fox's Morgan both receive wide releases.
Dogwoof's Jim: The James Foley Story, Curzon Artificial Eye's Things To Come and Soda Pictures' The 9th Life Of Louis Drax are among the films receiving a limited release.