Finding Mr. Right: Book Of Love tops The Jungle Book in a week that saw more homegrown than foreign releases.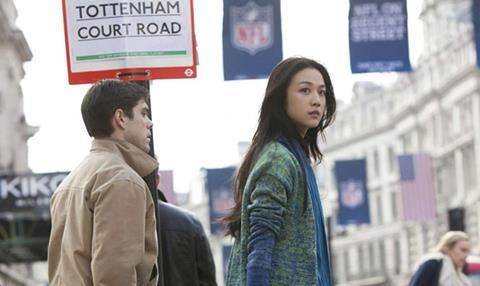 Edko Films' Finding Mr. Right: Book Of Love claimed the top spot at the Chinese box office from Apr 25 – May 1, cashing in $54.89m from its three-day opening weekend.
Director Xue Xiaolu rekindles the romance between Tang Wei and Wu Xiubo, but the new film tells a totally different story from its predecessor Finding Mr Right, which set a new benchmark for a local romantic comedy with $82.68m in 2013.
The Jungle Book secured second place with $32.82m, pushing its total to $132.65m after 17 days. It is now Disney's third-highest grossing release ever in China (behind Zootopia and Avengers: Age Of Ultron).
Local coming-of-age youth film Yesterday Once More held onto the third spot with $10.17m for $25.67m after ten days.
Another two new local releases, Phantom Of The Theater and MBA Partners, were neck and neck for fourth and fifth place with $8.08m and $8.06m, respectively, from their first three days.
Set in 1930s Shanghai, new horror Phantom Of The Theater represents the third collaboration of Hong Kong director Raymond Yip, producer Manfred Wong and Taiwan actress Ruby Lin, after Blood Stained Shoes and The House That Never Dies. The cast also includes Tony Yang and Simon Yam.
MBA Partners marks the big screen directorial debut of Chang Tae-you, the Korean director of My Love From The Star, which is a hugely successful Korean TV drama series across Asia. Starring Tang Yan, Yao Chen and Hao Lei, the new romantic comedy follows three motivated young women who partner up to pursue their life dreams.
Universal's fantasy prequel The Huntsman: Winter's War fell to sixth with $5.17m for $15.88m after ten days.
Another new local title was Huo Jianqi's Xuan Zang, which debuted in seventh with $2.81m from its first three days. Popular actor Huang Xiaoming plays the title role of monk Xuan Zang as he embarks on a 17-year overland journey from China to India during the Tang dynasty.
Rounding out the weekly top 10, Hong Kong action-comedy Buddy Cops took $1.99m for $4.13m after ten days; Korean romance-comedy sequel My New Sassy Girl earned $1.52m for $5.25m after ten days; and action sequel London Has Fallen grossed $1.19m for $52.48m after 24 days.
Thanks largely to the Labour Day weekend (Apr 30 - May 2), last week's box office surged for the first time since mid-March - by more than 30% week-on-week. Captain America: Civil War, scheduled for May 6, is expected to boost the box office further.