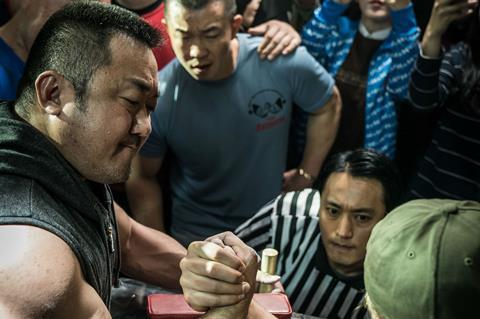 South Korean sales company Finecut has announced deals on arm-wrestling comedy Champion, starring Don Lee (Ma Dong-seok from Train To Busan), to a raft of territories including North America (Well Go USA).
Director Kim Yong-wan's feature debut is about Korean adoptee Mark on his journey from the US to become an arm-wrestling champion in Korea.
The film has also sold to Hong Kong and Macau (Edko Films), Malaysia and Brunei (Clover Films), the Philippines (Rafaella Films International), Taiwan (Sky Films Entertainment) and Vietnam (Mint C&M). Warner Brothers Singapore will be handling the film's distribution in Singapore.
Produced by Corecorner and presented by Warner Brothers Pictures in Korea, the film opened locally May 1 and clocked up $1.5m by its second day according to the Korean Film Council (KOFIC).
Finecut will continue sales on the film at the Cannes market where it also will have auteur director Lee Chang-dong's long-awaited Burning in Official Competition. The film is set for a world premiere May 16 at the festival.
The sales agent's slate also includes the latest projects from award-winning directors Lee Su-jin (Han Gong-ju) and Lee Sung-gang (My Beautiful Girl, Mari), respectively, as well as creature feature Monstrum.