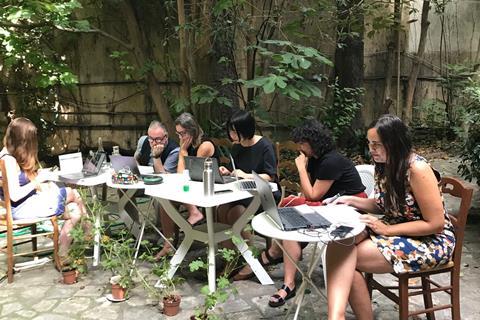 FIDLab, the project development platform of France's International Film Festival FIDMarseille, has unveiled the winners of its online edition which took place July 6-10.
The jury was comprised of Fiorella Moretti, founding co-chief of Paris-based sales company LuxBox; Matthijs Wouter Knol, the outgoing director of the European Film Market and Cannes Directors' Fortnight delegate general Paolo Moretti. They awarded nine different in-kind prizes provided by 11 FIDlab partners to the mostly hybrid projects.
US artist Sharon Lockhart won the Air France award (of two long-haul flights) for her documentary project Baumettes, capturing the life of female inmates at Baumettes Prison in Marseille. (The winner received two long-haul
Marianne Pistone and Gilles Deroo's hybrid drama Infamous Men's Life won the Commune Image award, offering eight weeks' use of its editing facilities in Paris. The work explores the life of the early 18th century figure of Matharin Milan, who was infamous in his era but a mere footnote in history.
Spanish director Carlos Casas's Krakatoa, exploring the world's looming modern-day ecological crisis through the prism of the 1883 volcanic eruption, won the Camargo Foundation prize, offering a residency at its headquarters in Cassis in the South of France.
Israeli-French director Mili Pecherer won an award offered by Spain's Casa de Velázquez in partnership with ECAM, the School of Cinema and Audiovisual of the Community of Madrid for her Old Testament inspired hybrid series The Goddamn Particle. It comprises a two-month residency and use of the ECAM's filming and editing equipment.
Canadian director Sofia Bohdanowicz's A Portrait, a docu-drama about forgotten violinist Kathleen Parlow, won the Kodak-Silverway prize, offering film and development at the Silverway lab in Paris.
French and German artistic duo Elise Florenty and Marcel Türkowsky's hybrid work Ollin Blood, exploring ideas around plant consciousness, won the Mactari award offering support for sound editing. The project also won the Micro Climat Studios award offering post-production support.
Swiss director Matthias Huser won the Sublimages prize offering subtitling for his project The Jungle, about a woman who undergoes an identity crisis when she visits her father's remote home in the Amazonian jungle.
The Vidéo de Poche award offering a DCP went to Tracking Satyrs, by the MML collective, consisting of Swiss graphic artist Gilles Lepore and Polish writer and director brothers Michał Mądracki and Maciej Mądracki. The work adapts Ancient Greek dramatist Sophocles's work Tracking Satyrs (Ichneutae) to contemporary Poland.
Fifteen projects participated in the event which comprised two days of video presentations followed by one-on-one meetings. The lab reported 280 meetings in total.
A slimmed-down physical edition of parent festival FIDMarseille is due to run two weeks later than originally scheduled from July 22-26 in the southern French city.