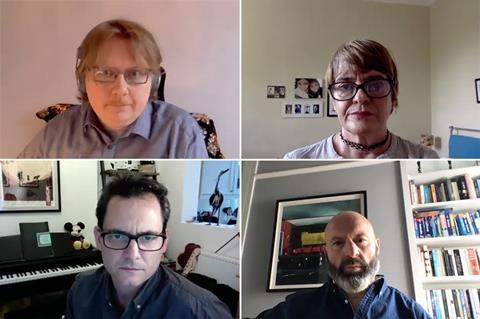 A combination of optimism and wariness characterised today's ScreenDaily Talk: 'What next for cinemas in the UK?' as leading figures from UK exhibition discussed key issues affecting the sector as cinemas begin to re-open in the Covid-19 era.
Watch the full session below.
Crispin Lilly, CEO of Everyman Media Group, spoke of the sheer relief of "waking up to box office admissions reports" this week for the first time in four months. The Everyman Group opened six of its sites last Saturday. Trolls World Tour was its best performing film followed by 1990s classic The Shawshank Redemption.
"I don't think there's any getting away from the fact that the numbers are definitely a lot smaller than they used to be," Lilly said.
He said admissions were at 80-85% "below the norm" but that this figure was higher than had been forecast. He also expressed his relief that older customers and families, "the two demographics we were most concerned about," were coming back to the theatres.
But Allison Gardner, CEO of Glasgow Film, which runs independent cinema Glasgow Film Theatre and Glasgow Film Festival, issued a bleak warning about the situation now facing the independent sector.
"It might be five years before we are back on an even keel," she predicted. "The margins are so narrow…it will be difficult to re-engage with those audiences around equalities, diversity and inclusion."
Gardner suggested, for example, the Glasgow Film Theatre's dementia-friendly programmes will now struggle. "That older audience will definitely not be coming back any time soon to the GFT. That is something we are going to have to put on hold."
With coronavirus infection rates in the US still rising and release dates for big US studio films from Mulan to Tenet being pushed further and further back, Phil Clapp, CEO of the UK Cinema Association, acknowledged the challenges facing UK and European exhibitors "heavily reliant" on US product.
"We very much risk having a significant region of cinema open and ready for business and because of things that are completely outside our influence elsewhere in the world, not having enough content to bring people back in," Clapp said.
"We never thought that tap would be turned off," he said of the scenario cinemas now face: No steady stream of Hollywood blockbusters to show in them.
"There is a discussion to be had about the medium and long term vision of the UK cinema industry and whether [there is space for] a more balanced film slate which takes the big films but also does find space for, and encourage, a broader range of British content," Clapp suggested.
The speakers agreed any further delay of the releases of the biggest titles by their US distributors could damage the long-term recovery of the sector.
"I completely understand the desire to wait for a global release date. I totally get piracy. I totally get all those challenges but if you wait for a global release date, you could be waiting for a very, very long time," said Lilly. "At some point there has to be recognition that you are not going to realise 100% of returns on those films that you were hoping for five months ago."
He made a plea to studio chiefs: "Look at the global footprint and if you think you can get 75%, go for it. That, in its way, will help start along the path [to recovery]."
"If we wait for the stars to be aligned, there may not be a European cinema sector to arrive at when we get there," Clapp agreed. "What we will lose in doing that is much, much greater in the grand scheme of things that some marginal reduction in revenue around a particular title."
"I absolutely understand the move toward global day and date is being driven by marketing spend; it is being driven by piracy and a range of other things. But without sounds too apocalyptic - and now I am going to - we are talking about the survival of the sector here. Piracy and marketing spend become a bit of an irrelevance."
"The cinema is something special"
Lilly highlighted the challenge facing exhibitors by both safeguarding customers and staff and not damaging the cinema-going experience. "The cinema is something special," he said. "You still need the cinema to be as close as realistically possible to what it was before. That is what people are craving. They've all been watching films for the past three or four months. They're not coming out to see a film. They are coming out to enjoy the cinema experience."
The UK government this week introduced a reduction in the VAT on cinema tickets and also possibly on food and drinks. The exhibitors explained why the cut will help them save staff.
"I'll be honest and frank. The intention is not to pass the savings on [to customers]," Lilly stated. "If we passed it straight on, it would do very little. I don't think people are choosing to come out to an Everyman, or not to come out to an Everyman this weekend, based on whether our tickets are £14 or £12.60."
He added the VAT reduction will "enable us to consider keeping staff on furlough for longer; it will enable us to open more cinemas earlier."
On the issue of face masks, there is not yet a UK-wide consensus on this. However, in England, Clapp said, there is "no requirement for guests or staff to wear face coverings…in terms of the guidelines we have been given by Public Health England, there is no requirement."
"That may change," Clapp acknowledged. "We have had some criticism about that but 'cinema trade bodies second guesses public health experts' is not [the headline] I am going for."
"I am not going to sit here and pretend I am a virologist or second guess the advice we've been given," Everyman's Lilly agreed.
It was confirmed during the Talk that cinemas in Northern Ireland can open from tomorrow, Friday July 10.
The next ScreenDaily Talk will be announced soon.