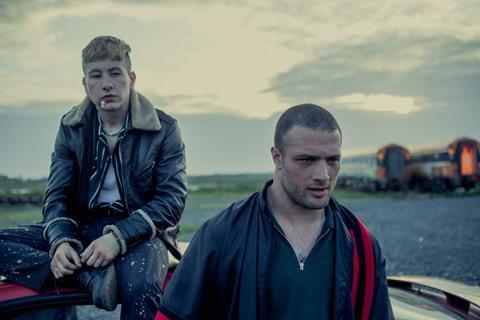 Screen can unveil the first look at Calm With Horses, Nick Rowland's feature debut starring Cosmo Jarvis (Lady Macbeth) and Barry Keoghan (The Killing Of A Sacred Deer).
Daniel Emmerson is producing the feature for Michael Fassbender and Conor McCaughan's DMC Film. Joe Murtagh has adapted the screenplay from a novella in the collection of award-winning short stories Young Skins by Irish writer Colin Barrett.
Set in rural Ireland, the film follows ex-boxer Arm (Jarvis) who has become the feared enforcer of the drug-dealing Devers family while trying to be a good father to his autistic five-year-old son. Torn between these two families, Arm is asked to kill for the first time, and his attempt to do the right thing endangers everyone he holds dear.
Altitude is handling sales and will be debuting a promo of the film at the upcoming American Film Market in Los Angeles.
The project was developed with Film4, which also financed alongside the Irish Film Board and the WRAP Fund. It was made in co-production with Irish outfit Element Pictures – the latter will release in Ireland through its distribution label. Altitude will release in the UK.
The film is a 'who's who' of former Screen Stars of Tomorrow. Actors Jarvis and Keoghan were Stars in 2013 and 2015 respectively - while supporting cast member Niamh Algar is a 2018 Star. Director Rowland and screenwriter Murtagh were Stars in 2016, and producer Emmerson was in 2015.