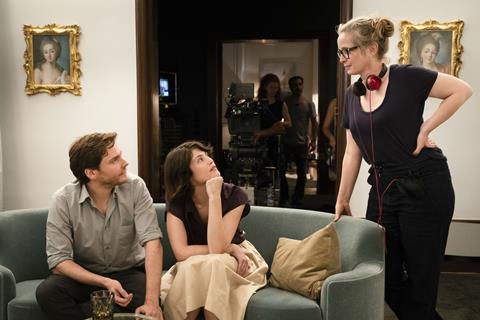 The first image from the set of My Zoe, the forthcoming drama written and directed by Julie Delpy (the Before trilogy) and starring Gemma Arterton (Their Finest) and Daniel Brühl (Rush)
Principal photography on the film started on May 24, shooting in and around Berlin and Moscow.
Delpy plays Isabelle, a scientist and divorcée who has difficult contact with her ex-husband James (Richard Armitage) due to their co-parenting of daughter Zoe (Sophia Ally). After a tragedy befalls the family, Isabelle takes matters into her own hands, turning to a couple (played by Arterton and Brühl) in Moscow for help.
The cast also includes Saleh Bakri (The Source) and Lindsay Duncan (Gifted).
Malte Grunert (Perfect Sense) is producing for Berlin-based Amusement Park together with Gabrielle Tana (Philomena) and Metalwork Pictures' Andrew Levitas. The filming is funded by Medienboard Berlin-Brandenburg and Filmförderung Hamburg as well as the German Federal Film Fund (DFFF).
UK-based Protagonist Pictures is handling worldwide sales, with the film scheduled for release in 2019.
The film is Delpy's seventh feature as a writer-director, with her previous titles including 2 Days In New York (2012) and 2 Days In Paris (2007).