EXCLUSIVE: Proceeds from the dialogue-free project will support filmmakers from the region.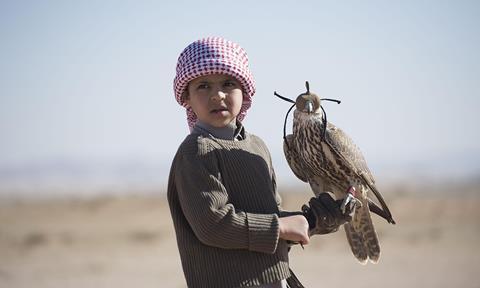 Production has wrapped on experimental Saudi Arabian film Joud, the first feature produced by The King Abdulaziz Centre for World Culture. The first image from the project is above.
The documentary feature is directed by Andrew Lancaster (The Lost Aviator), with production taking place in 16 locations accross Saudi Arabia including Jeddah, Tabuk, Mecca and Ha'il.
The screenplay from Safya Al-Marri and Hussam Alhulwah uses an experimental story structure derived from a pre-Islamic form of poetry, the "Qasida", described as an "ancient poem for modern times."
Producer Todd Albert Nims said Joud is "an ambitious production in that it chooses to avoid the use of narration or dialogue to engage audiences."
The film is scored by Jerry Lane, composer for the Oscar-nominated film Theeb and produced by Abdullah Aleyaf and Todd Albert Nims of the King Abdulaziz Centre in association with the UK's The Edge Picture Company. Its production team is headed by executive producer and founder Phil Blundell.
Any proceeds from the distribution of Joud will go to into a fund managed by the King Abdulaziz Centre that provides annual grants to support upcoming Saudi filmmakers. The arts centre will open to the public in late 2017 in Dhahran, Saudi Arabia.
Director Andrew Lancaster said of the film: "Without dialogue to carry the story, I wanted to jolt the audience into an immersive, rhythmic and visceral experience, opening up a world of intrigue, wonder and delight that challenges preconceptions of Arabian culture.
"I approached the visual narrative in unexpected ways using aerial photography and symmetry, paying homage to ancient Islamic geometry, revealing hidden landscapes and unique stories from ancient tombs to teenage gamers."