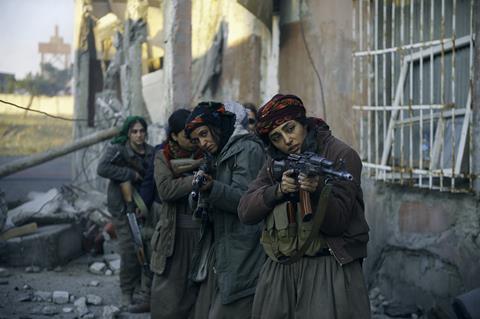 Screen can reveal an exclusive first look (above) at Golshifteh Farahani in the role of a female Kurdish fighter in French director Eva Husson's Girls Of The Sun.
Farahani plays Bahar, the commander-in-chief of a Kurdish female battalion known as "The Girls of the Sun", who is preparing to take back the town where she and her family were captured by extremists.
Cannes best actress winner Emmanuelle Bercot (Mon Roi) co-stars as journalist Mathilde who is embedded with the female fighters to cover the early days of the offensive.
Through their encounter, Bahar's experiences since the arrival of the extremists who changed the course of her life slowly resurface.
The role comes amid a busy period for versatile, Paris-based Farahani who also recently played the lead in The Song Of Scorpions, appeared in Pirates Of The Caribbean: Salazar's Revenge and is also set to hit the big screen in 2018 in The Upside and Paris-set zombie invasion thriller The Night Eats The World.
Director Husson was inspired to make the film after reading about the exploits of real-life Kurdish women who were taken hostage by Islamic State fighters as they swept across Syria and Iraq, but managed to escape and then took up arms against their former captors.
The picture, which shot in Georgia and France last September and October, is in post-production and is expected to premiere at a major film festival this year.
It is Husson's second feature after her 2015 exploration of teenage sexuality Bang Gang (A Modern Love Story).
Didar Domehri at Paris-based Maneki Films, who also produced Gang Bang, is lead producing the feature in co-production Gapbusters (Belgium), 20 Steps Productions (Georgia), Wild Bunch (France), Arches Films (France) and Bord Cadre films (Switzerland).
Paris-based Elle Driver handles international sales.