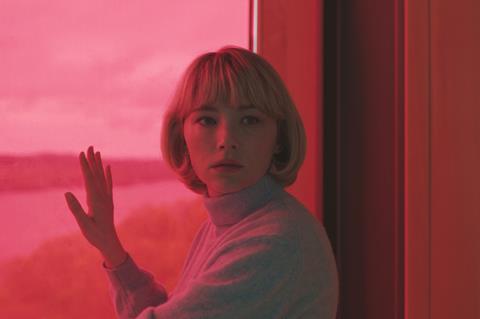 French sales company Charades has a revealed the first image of Haley Bennett in Carlo Mirabella-Davis's upcoming psychological thriller Swallow.
Bennett, best known for her role opposite Emily Blunt in The Girl On The Train, plays a pregnant young woman, whose seemingly harmonious existence takes an alarming turn when she begins compulsively and uncontrollably eating dangerous objects.
It Mirabella-Davis's first feature after a number of award-winning short films. Charades kicks off sales on the feature at the AFM this week.
Charades co-chief Carole Baraton highlights the fact that it also marks a first foray into the production for the Paris-based company, she launched alongside Yohann Comte and Pierre Mazars at the end of 2017.
"We're excited to be both producing and selling this film," said Baraton. "Carlo has made an atmospheric, psychological thriller with undertones of Hitchcock and De Palma."
Baraton takes a producer credit on the film alongside New York producers Mollye Asher, whose recent credits include Chloé Zhao's The Rider, and Mynette Louie as well as Frédéric Fiore at French film finance and production house Logical Pictures.
Swallow is among six new titles being rolled out by Charades at this year's AFM.
Charades slate
The company will also kick off sales on feature animation Marona's Fantastic Tale, the latest work from Romanian director Anca Damian, whose Crulic – The Path To Beyond won best film at the Annecy International Film Festival in 2012.
The family-focused drama, due for delivery in 2019, revolves around a dog called Marona, nearing the end of her days, as she reflects on her life and the lives of the humans she loved unconditionally along the way.
It is produced by Bucharest-based Aparte Film alongside France's Sacrebleu Productions (Long Way North) and Belgian company Mind Meets.
"It's a warm-hearted tale looking at the various stages of life and its complexities. We'll kick off sales at the AFM. Some first footage was previewed at Cartoon Movie earlier this year where it received a positive response," commented Baraton.
Also new to the Charades slate is Louis-Julien Petit's French-language social comedy-drama Les Invisibles, revolving around the battle to protect the residents of a homeless shelter for women threatened with closure.
The production features an impressive ensemble cast topped by Audrey Lamy, Noémie Lvovsky, Corinne Masiero and Deborah Lukumuena, the co-star of Divines. Apollo Films is due to release the picture in France in early 2019. "It's a contemporary tale which will chime with audiences around the world," said Baraton.
The company will also launch sales on Australian drama Buoyancy, Rodd Rathjen's fictional exploration of the real-life issue of slavery within the Thai shipping industry through the tale of Cambodian teenager who finds himself a prisoner at sea when he takes up the offer of a job.
It is the latest production from Causeway Films, the Sydney-based company which produced Jennifer Kent's The Nightingale and The Babadook as well as apocalyptic thriller Cargo.
Other new titles on the slate include the recently-announced family 3D animation Bigfoot Superstar and drama Suicide Tourist, starring Nikolaj Coster-Waldau.