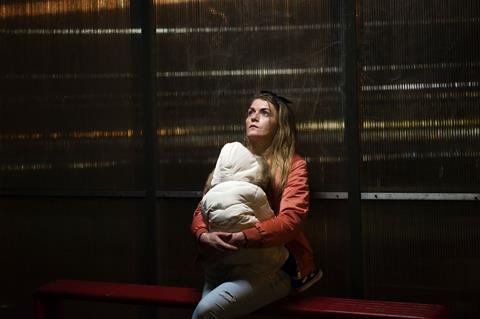 Screen has an exclusive first look image from Dirty God, a drama about a young woman in South London rebuilding her life after an acid attack leaves her with severe facial burns.
It is directed and co-written by Sacha Polak, who has previously won the CICAE Award and the FIPRESCI Prize at Berlin Film Festival for her features Zurich and Hemel respectively. In what is Polak's English language debut, she has cast newcomer Vicky Knight in the lead role; Knight has facial scarring as a burns survivor herself.
The supporting cast has both established and rising names, including Katherine Kelly (The Night Manager, Mr Selfridge), Rebecca Stone (Prank Me), Bluey Robinson (EastEnders, Doctors), and Dana Marineci (Toni Erdmann, Scarred Hearts).
The film comes at a time when acid attacks are significantly on the rise in the UK; a recent survey released by the London Metropolitan Police showed a surge of more than 500% between 2012 and 2016.
Polak commented: "What sticks in my mind is that all the women I've met who got burned were forced to find a way to come to terms with their new appearance…What is universal about it, is that for each and every one of us it is challenging to be confronted with feelings of external beauty versus internal dignity."
Dirty God is headed to the EFM this week with Independent handling international sales; initial deals have been secured for France with The Jokers Films and for Benelux with Cinéart.
The film will be shooting in London, Amsterdam and Morocco, with Ruben Impens (Mustang, Raw) as DOP. Marleen Slot of Viking Film (Zurich, Summer Of Sangaile) and Mike Elliott of EMU Films (Catch Me Daddy, Jawbone) are producing.