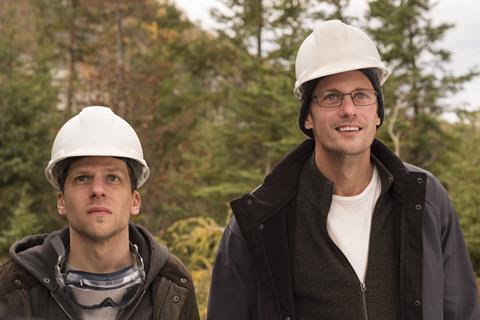 This exclusive first look at The Hummingbird Project shows Jesse Eisenberg and Alexander Skarsgård as cousins Vincent and Anton. Kim Nguyen's drama is shooting now through mid-December in Quebec.
Michael Mando and Salma Hayek round out the cast.
HanWay handles international sales; CAA handles US and Elevation Pictures will release in Canada.
Nguyen (War Witch) has assembled a team of his longtime collaborator including DoP Nicolas Bolduc and production designer Emmanuel Frechette
Canada's Item 7 produces with Belgium's Belga Productions. Brian Kavanaugh-Jones and Fred Berger of Automatik serve as executive producers.
The film is described as a "modern epic" that "exposes the ruthless edge of our increasingly digital world." The story follows two cousins from New York, experts at High Frequency Trading. They dream of building a fibre-optic cable between Kansas and New Jersey. Hayek plays their powerful former boss who wants to beat them at their own game.