The 75th Venice Film Festival got underway yesterday evening (Aug 29) with the world premiere of Damien Chazelle's First Man, starring Ryan Gosling as American astronaut Neil Armstrong.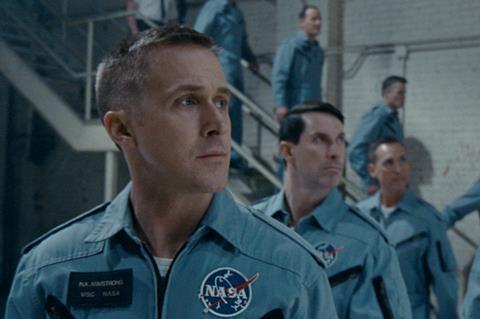 At the opening ceremony, Venice president Paolo Barrata got proceedings underway by saying that "we need cinema to orient ourselves, to see things and to see the world, to understand reality".
"I've become more convinced of the growing importance of cinema [and] of a festival based on quality," he continued.
If the opening film is anything to go by, Barrata's promise of quality looks to be on the mark, with First Man receiving good buzz from attendees on the night and strong write-ups across the trades and further afield - Screen's review described it as "beautifully made".
Whether the film is propelled into awards season from its Lido premiere is yet to be seen, but Universal will be feeling confident about the chances of director Chazelle, star Gosling, and across the board on the tech categories.
In the coming days, a host of high-profile titles and presumed awards season contenders will make their debuts in Venice.
Today (Thursday 30), Alfonso Cuaron's Gravity follow-up Roma will premiere in Competition, as will Yorgos Lanthimos' period drama The Favourite. Friday sees titles including the Coen Brothers' anthology Western The Ballad Of Buster Scruggs debut before Bradley Cooper's musical A Star Is Born. The weekend sees Luca Guadagnino's horror remake Suspiria, Mike Leigh's Peterloo and Jacques Audiard's The Sisters Brothers all premiere.
At the opening, Competition jury president Guillermo Del Toro was one of a number of high-profile guests, alongside fellow jurors including Naomi Watts, Christoph Waltz and Taika Waititi and the First Man cast including Gosling and Clare Foy.
Referring to this year's hotly-anticipated competition programme, Del Toro joked that him and his fellow jurors would "probably stop speaking to each other because the selection this year is incredible".
British actress Vanessa Redgrave was also in attendance to receive her honorary Golden Lion. The six-time Oscar nominee and one-time winner received a lengthy standing ovation from the attending crowd, before taking to the stage for an acceptance speech delivered in fluent Italian.
Gender imbalance
Build up to the festival this year has been dominated by talk about the lack of female filmmakers represented in the programme, with only one film directed by a woman, Jennifer Kent's The Babadook follow-up The Nightingale, selected for this year's Competition.
Venice director Alberto Barbera has staunchly defended him and his programming team, but voices of discontent have continued to insist that, in 2018, the lack of female directors just isn't good enough.
The ceremony itself was devoid of references to the disagreement, but earlier in the day, at Venice's opening press conference, Del Toro had broken ranks with the festival heads by voicing his support for the 50-50 by 2020 campaign, an initiative already embraced by Cannes and other festivals.