Ryan Gosling stars in Damien Chazelle's Venice opener as Neil Armstrong, the first man to walk on the moon.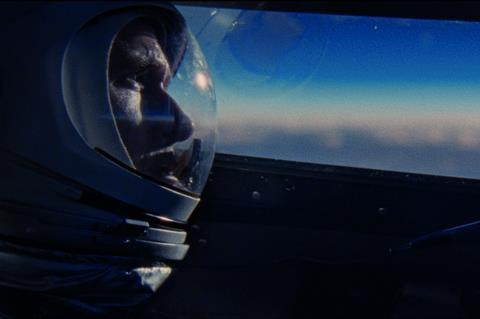 Dir. Damien Chazelle. US. 2018. 141 mins.
La La Land's Damien Chazelle, a director who can turn a score into a character and uses sound design in First Man to harness audiences inside a primitive spaceship, widens his horizons to tell the story of America's great hero Neil Armstrong and his professional and personal journey to the moon. It's a beautifully made film, with an impeccable lead performance from Ryan Gosling as the sober, sensitive astronaut. Yet it's also a film which takes elegant flight but stalls across its extended closing sequences; a project which, in its probing of Armstrong's emotional mechanisms, neglects the development of other characters who might have anchored it more securely.
First Man is a thoughtful, even delicate, proposition
The question is, opening the Venice Film Festival before moving on to Toronto, whether First Man has the right stuff to deliver solid returns and awards attention for Chazelle and worldwide distributor/backer Universal. Both prospects seem positive. Strong notices should be expected for Gosling; Claire Foy as Armstrong's wife Janet; Nathan Crowley's production design; Justin Hurwitz's score; deft sound editing; and Linus Sandgren's lensing, making First Man, like the NASA space programme, a true team effort. Astronauts have consistently floated their way into awards play from The Right Stuff to Apollo 13 and Gravity which, visually, this film most resembles. Although its tank isn't completely full, there's enough fuel to land First Man very safely in international multiplexes.
Chazelle, working with screenwriter Josh Singer (Spotlight, The Post) in adapting Armstrong's only authorised biography, focuses on the test pilot-turned-astronaut as an emotionally-repressed man and Korean War veteran who suffers greatly over the death from cancer of his two year-old daughter, Karen. Joining the Gemini space programme in Houston is a way for the family to make a fresh start, and Janet becomes pregnant again as the film embarks on its voyage from the Mojave Desert in 1961 to the moon landings of 1969.
First Man opens with an extended sequence of Armstrong testing a X-15 fighter jet in the desert; a bravura demonstration of the film-making prowess which is to come. The jet judders and spins out of control; the sky turns from inky midnight to brilliant blue and sunshine yellows, the rim of the earth reflected on Armstrong's visor. It immediately recalls the "spam in a can" antics of Chuck Yeagar in The Right Stuff, but First Man is a more thoughtful, even delicate, proposition. Claims are made that Armstrong is distracted, and the reason is soon becomes clear: Karen is a seriously ill young girl who won't survive her radiation therapy and tender scenes between father and daughter are a motif which will be repeated throughout the film.
As the film moves to Huston and the space programme, it never fails to engage with a larger cast of characters being introduced, albeit briefly. Jason Clarke impresses, as always, playing doomed astronaut Ed White. The White family becomes close to the Armstrongs as they live side-by-side in wonderfully-recreated sixties-era housing, but even Ed can't penetrate Neil's emotional armour as the polite, focused, clever engineer moves through the ranks at NASA. His cool head and restrained demeanour cover up, suggests Chazelle, a persistent sadness.
Two elements of Chazelle's re-telling stand out in particular. The first is the relationship between Neil and Janet in the face of a constant roll-call of accidents and fatalities in their lives. Being an astronaut's wife looks like a thankless role in real life and it's no great gift to an actress, but Claire Foy approaches the part with a matter-of-fact intelligence which gives a great deal of weight to Janet, who only died in June of this year.
Also, Nathan Crowley's recreation of the shuttles and crafts, both interior and exterior, are hyper-detailed and, coupled with Linus Sandgren's claustrophobic, swivelling lens, make it clear just how risky and murderous these tin-cans were and how truly brave their occupants.
Chazelle does make an attempt to connect events in Houston to the wider world as anti-war protests break out across America and the space race begins to look like an expensive boys' game. Gil Scott-Heron's "Whitey on the moon" – released in 1970 – complements an expressive score by regular Chazelle collaborator Justin Hurwitz, which seems to rise and fall with the rockets and amplify the extreme stress placed on both their casings and the astronauts inside.
Production company: Temple Hill
Worldwide distribution: Universal
Producers: Wyck Godfrey, Marty Bowen, Isaac Klausner, Damien Chazelle
Screenplay, Josh Singer, from the book by James R. Hansen
Editing: Tom Cross
Production design: Nathan Crowley
Cinematography: Linus Sandgren
Music: Justin Hurwitz
Main cast: Ryan Gosling, Claire Foy, Jason Clarke, Patrick Fugit, Ethan Embry, Corey Stoll, Kyle Chandler, Ciaran Hinds