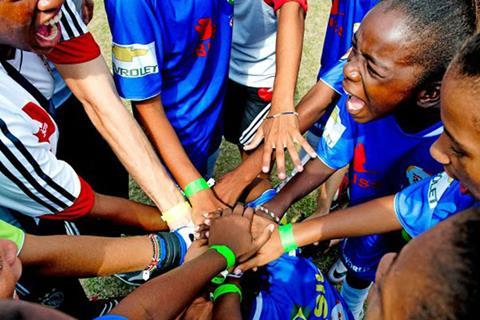 The third entry in the Streetkids documentary franchise, Streetkids United III – The Road To Moscow, is now shooting at the 2018 Street Child World Cup in Moscow.
The series chronicles the football event, which takes place every four years ahead of the FIFA World Cup and invites more than two-hundred 'street children' from across the world to compete on behalf of their country.
The first Streetkids film depicted the 2010 event in Durban, South Africa, and played in the Generation strand of the 2011 Berlinale. Its sequel, Streetkids United II: The Girls From Rio, depicted the 2014 event in Brazil and had its premiere at the Rio Film Festival.
The latest film is a co-production between Dublin-based Film and Music Entertainment (F&ME) and Dutch outfit JaJa Film Productions, in association with Bernd Out and Amsterdam-based post facility Made for Digital. Prajesh Sen from India is an associate producer.
Production began in Chennai, where the filmmakers tracked a group of young female footabllers, before moving to Moscow, where the 2018 Street Child World Cup kicked off yesterday (May 9).
Jacco Groen (Lilet Never Happened) is directing. Producers are Jamillah van der Hulst and Conrad Alleblas for JaJa, Mike Downey and Sam Taylor for Fame, which previously worked on both Streetkids United II and Lilet Never Happened.
"We started the series with a focus on the plight of kids in Durban in South Africa and then took the narrative in the second part to Latin America, focussing on the winning Brazilian girls team. This year we stick with the girls and follow a feisty team of young female footballers from the streets of Chennai in India," commented producer Downey.
A total of 24 national teams will take part in the 2018 Street Child World Cup. Revered football manager Alex Ferguson, who is recovering in hospital after brain surgery, has previously spoken of his admiration for the event: "The Street Child World Cup is at the heart of football, providing a level playing field to street children who have for too long been marginalised."
F&ME's recent credit include Rudolph Herzog's How To Sell A War, which Bankside is selling in the Cannes market.