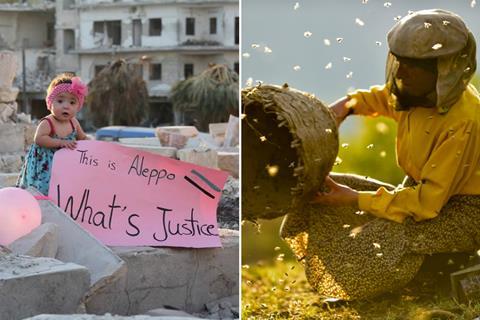 Waad al-Kateab and Edward Watts' Syrian war documentary For Sama and Sundance award winner Honeyland are among the 12 titles on the documentary longlist for the 2019 European Film Awards.
Scroll down for the full longlist.
For Sama launched at SXSW in the US, before joining the Cannes official selection as a special screening. The film shows the female experience of the Syrian conflict through the lives of al-Kateab and her young daughter Sama. Republic Film Distribution has UK rights on the title, with PBS Distribution handling a US theatrical release.
Honeyland, directed by Tamara Kotevska and Ljubomir Stefanov, is a North Macedonian production which won three prizes in the world cinema – documentary strand at Sundance Film Festival in January: the grand jury prize, the special jury award and the cinematography award. It centres on Europe's last female beekeeper in an exploration of human behaviour towards expiring natural resources.
The selection was chosen by the six-strong EFA documentary committee; EFA members will vote for five nominations, with a winner chosen at the awards ceremony in Berlin on December 7.
Last year's best documentary award went to Anna Zamecka's Polish film Communion.
European Film Awards 2019 documentary longlist
Advocate (Isr-Can-Switz)
Dirs: Rachael Leah Jones, Philippe Bellaiche
Aquarela (Ger-UK-Den)
Dir: Victor Kossakovsky
Delphine And Carole (Fr-Switz)
Dir: Callisto McNulty
For Sama (UK-US)
Dir: Waad al-Kateab, Edward Watts
Heimat Is A Space In Time (Ger-Austria)
Dir: Thomas Heise
Honeyland (N. Mac)
Dir: Ljubomir Stefanov, Tamara Kotevska
M (Fr)
Dir: Yolande Zauberman
Push (Swe-Can)
Dir: Fredrik Gertten
Putin's Witnesses (Lat-Switz-Czech)
Dir: Vitaly Mansky
Scheme Birds (Swe-UK)
Dir: Ellen Fiske, Ellinor Hallin
Selfie (Fr-It)
Dir: Agostino Ferrente
The Disappearance Of My Mother (It-US)
Dir: Beniamino Barrese