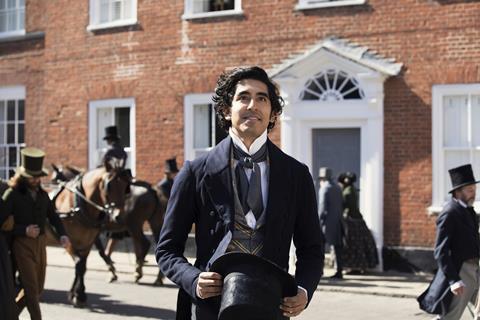 Armando Iannucci's Charles Dickens adaptation The Personal History Of David Copperfield has picked up three awards from the nine British Independent Film Awards (BIFA) craft winners, announced today (November 15).
The Film4-backed title won best casting for Sarah Crowe, best costume design for Suzie Harman and Robert Worley, and best production design for Cristina Casali.
Both Crowe and Casali previously won their respective awards in 2017 for their work on Iannucci's The Death Of Stalin.
David Copperfield led the nominations totals with 11 when they were announced last month; the remaining category winners will be revealed at the BIFA ceremony on December 1. Iannucci is nominated for best screenplay alongside co-writer Simon Blackwell, while Dev Patel is up for lead actor and Tilda Swinton and Hugh Laurie are nominated for supporting actress and actor.
Brian Welsh's Scottish rave drama Beats won two categories: best cinematography for Benjamin Kracun, and best sound for David Bowtle-McMillan, Joakim Sundström and Robert Farr.
Jeremy Woodhead won best make up & hair design for Judy, with Jack Arnold receiving best music for Wild Rose.
Howard Jones took the best effects prize for the second successive year, with A Shaun The Sheep Movie: Farmageddon following last year's Early Man; while best editing went to For Sama's Chloe Lambourne and Simon McMahon.
Kristin Scott Thomas was previously announced as the recipient of this year's honorary Richard Harris Award.