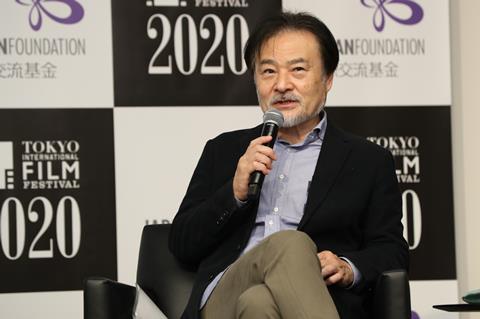 At the Tokyo International Film Festival (TIFF) today (November 7), Chinese filmmaker Jia Zhang-ke failed to show up for a scheduled hybrid on-and-offline Asia Lounge talk with Japanese filmmaker Kiyosho Kurosawa, moderated by producer and Tokyo Filmex head Ichiyama Shozo.
The two Japanese cineastes carried on in Jia's absence, with Shozo, who has served as producer on the Chinese director's films including Ash Is Purest White, Mountains May Depart and A Touch Of Sin, answering Kurosawa's and later the online audience's questions about the Chinese filmmaker's methods and plans.
Shozo put Jia's absence down to a bad cold the filmmaker (who recently exited the Pingyao International Film Festival) has been suffering from. The cold had already forced him to drop out of an online Q&A for his feature documentary Swimming Out Till The Sea Turns Blue during Tokyo Filmex in late October.
TIFF organisers told Screen they were unaware Jia would be absent until right before the event started, with Shozo announcing at the beginning there was still a possibility he would join. It was only towards the end of the session he relayed the news that, in fact, Jia was heading to hospital. Shozo and TIFF organisers both wished the director a speedy recovery.
Directing aspirations
During the talk, Kurosawa – whose film Wife Of A Spy was selected for the Cannes 2020 Label – asked Shozo about Jia's potential plans to direct an action film, perhaps in Hollywood.
Shozo cited reports in the Chinese media announcing the project. "It was to be called Incident In Xingdao, set during the Boxer Rebellion, a story about the younger generation fighting against the Western powers coming into the country," he said.
"[Jia] had a plan to make a martial arts action film, and he had the location and the script was being developed. Johnnie To said the financing would be through Hong Kong. It was postponed because of difficulties with casting but the director never said he would not shoot it, so maybe he has something up his sleeve."
For his part, Kurosawa was asked if he would ever like to shoot a film in China, to which he responded: "As we see in Jia Zhang-ke's films, you see very old facilities and traditional buildings sitting next to ultra-modern buildings, and as a filmmaker it would be interesting to capture that. At the moment, though, I don't really have any ideas [when Jia has already done so much around the changing times in China].
"But," he continued, "when we think about the very long history that exists between China and Japan, I would like to make a film around that relationship. I did start making a film – it's been interrupted and postponed, but it was talking about the relationship between Japan and China, titled 1905."
Wife Of A Spy, for which Kurosawa won Venice's best director award in September, is currently on release in Japan and he was asked how local audiences have reacted to the film and whether there was any controversy over its depiction of Japan's Unit 731, which carried out human experiments in China during the Second World War.
"Did I get any pressure or pushback because of the story taking place during the world war during the 1940s? No, there wasn't. The film was not made for propaganda purposes, and it was not something that I wanted to send a strong message about some fact that had never been exposed.
"I think the story itself is something that people are very much aware of, and it is a genre film. The producers didn't say I had to be very careful about certain things that I said or commented upon so everything went very smoothly, actually."
TIFF's Asia Lounge Conversation Series, running November 1-8, was initiated by Hirokazu Kore-eda to further discussions amongst Asian filmmakers with their Japanese peers.
Kore-eda kicked off the series moderating a talk between Korean director Kim Bora (House Of Hummingbird) and Japanese actor Ai Hashimoto (A Beautiful Star), and overseas guests who have participated in the talks this week include Apichatpong Weerasethakul, Tsai Ming-liang and Mouly Surya.