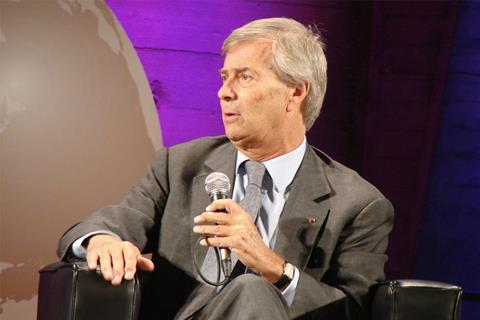 Vincent Bolloré, the billionaire industrialist who took control of French pay-TV giant the Canal Plus Group in 2015, has been placed in custody amid an anti-corruption investigation into African port concessions run by his transport conglomerate Bolloré.
French media reported on Tuesday that the Brittany-born businessman had been taken into custody at the offices of the judicial police in Nanterre on the outskirts of Paris.
They said he had been summoned to answer questions as part of an investigation, begun some two years ago, into the corruption of "foreign public officials" in relation to contracts to operate container ports in the African countries of Togo and Guinea.
According to French media reports, French investigators are probing claims that communications group Havas, a subsidiary of the Bolloré Group, provided services for certain politicians in Togo and Guinea with the aim of boosting their bids to win lucrative container port contracts.
The company issued a statement on Tuesday morning denying the accusations.
"The Bolloré Group formally denies that its subsidiary at that time SDV Afrique committed irregularities. All the services in these bills were undertaken in complete transparency," it said.
News of Bolloré's detention comes some two weeks after the tough-talking tycoon announced on April 10 that he was relinquishing his role as president of the Canal Plus supervisory board, and then on April 19, that he was also stepping down as chairman of its parent company Vivendi and handing the role over to his son Yannick Bolloré.
Bolloré had held the role of president on the Canal Plus supervisory board ever since taking control of the group in 2015 after he became the biggest shareholder of parent company Vivendi.
Under his reign, Canal Plus has undergone a radical restructuring - involving the departure of several top executives as well as tough cuts – in a bid to overcome the challenges facing the pay-TV giant which has seen its subscribers fall amid increased competition from global platforms and players.
Under the executive shuffle, Bolloré appointed long-time confidante Jean-Christophe Thiery in the role of president of the supervisory board and promoted Maxime Saada to the role of chairman of the board, previously held by Thiery.