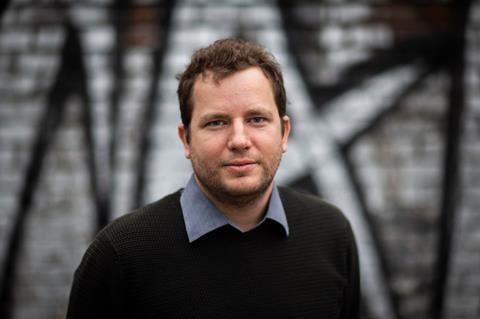 UK-based Iranian filmmaker Babak Jalali, whose credits include Land and Radio Dreams, is one of the first filmmakers selected for Matthieu Darras' new international Pop Up Film Residency. The initiative is being unveiled at the When East Meets West co-production forum in Trieste this week.
The Pop Up Film Residency aims to combine a traditional artist's residency with the practical elements of a film workshop.
Jalali will participate in one of the three-week residencies in the Slovakian capital of Bratislava later this year. He will work on the screenplay for his fourht feature Town In Patagonia, inspired by the Grenfell Tower disaster in London in summer 2017.
Darras, who served as artistic director of the Torino Film Lab until the end of last year, has teamed up with Bratislavan producer Juraj Krasnohorsky of the Artichoke film company to deliver the new initative.
"The name was chosen because [the initiative] can pop up or hatch out anywhere," Darras explained.
"We are planning to have up to 10 residencies in the first year with one resident at a time. They can be a writer , director or possibly a producer," he continued. "I will be a mentor for each participant and we will have another person - a script consultant or producer - invited as a mentor who suits the particular needs of the project.¨
Most of the residencies in the first year will take place in Bratislava. Further ahead, Darras is also working a further two co-organisers - producers Ada Solomon and Denis Vaslin - who are likely to host Pop Up Film Residencies in Bucharest and Rotterdam respectively.
Participants will be selected in one of two ways: The first will be in collaboration with Cannes Critics' Week's Next Step programme, the Doha Film Institute, When East Meets West, EAVE and CEE Animation.
The second will be on a case-by-case basis for more experienced filmmakers on at least their third film which is how Jalali was selected.
Darras said he saw need to provide support to experienced filmmakers with one or two features already under their belt. "There are so many initiatives for newcomers available but when one is an experienced filmmaker, you can still benefit from having that opportunity for an exchange of ideas about your project," he explained.
First Residency to be held in February
The first residency will be held in collaboration with the Next Step programme of Cannes' Critics' Week for the German-Polish director Oliver Adam Kusio in February. Kusio will work on the screenplay for his debut feature film Pax Europa with his mentor, script consultant Nadja Dumouchel.
Next up will be a residency organised in collaboration with When East Meets West with Italian director and photographer Giovanni Troilo to work on the screenplay for his new feature project Le Paradis C'est Ic in March. Following this, the Doha Film Institute has selected Qatari-Algerian director Meriem Mesraoua to participate with her debut project The Other Wife for three weeks in May.
Small-scale relationships
The initiative follows a pilot version held with the Greek filmmaker Jacqueline Lentzou last year. She spent her time in Bratislava on the editing of a short film and writing the screenplay for her feature debut Selene66. Lentzou received advice from mentors including roducers Katja Adomeit, Giovanni Pompili and Julie Billy, and script consultant Britta Krause.
"After working for more than 20 years on organising workshops, I felt that there was a need to create more small-scale relationships," said Darras of the inspiration for the programme. "A place where a filmmaker has the time to dedicate themselves entirely to a particular project as well as having the support of a mentor."