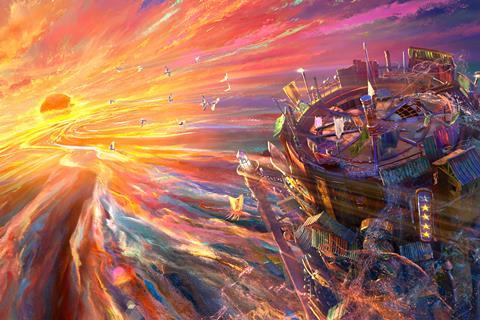 Amsterdam-based sales outfit Fortissimo Films has secured international rights to Tian Xiaopeng's Deep Sea, which is set to receive its international premiere at the Berlinale.
The Chinese 3D animated feature marks the second feature by Tian, whose debut Monkey King: Hero Is Back became the highest-grossing animated film ever in China when it took $138m in 2015. The current record holder is 2019 animation Ne Zha, whose producer, Yi Qiao, is the producer of Deep Sea.
The film tells the story of Shenxiu, a girl who has felt a deep sadness since being abandoned by her mother. While on a family cruise, she falls into the sea and breaks into the Deep Sea restaurant where she meets inventive underwater chef Nanhe and embarks on a journey between dreams and reality. The cast includes Wang Tingwen and Su Xin.
Director Tian and his team developed a CG technique based on particles, creating 3D images from abstract Chinese ink painting, which is used throughout the film. It is produced by Yi's animation studio October Media and Beijing-based Enlight Pictures.
Deep Sea will be released in China on January 22, securing a coveted date during Chinese New Year, and was today revealed to have been selected for the Generation KPlus competition at the Berlinale, where it will receive its international premiere in February.
Clement Magar, general manager of Fortissimo Films, said it would launch sales at the European Film Market (EFM), which runs alongside the festival from February 16-22.