War Of The Planet Of The Apes set to be first release in partnership.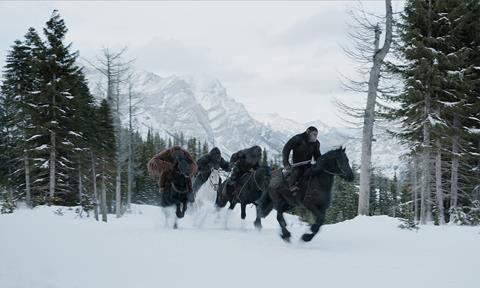 US major 20th Century Fox has signed a deal with Scandinavian outfit Nordisk Film for the latter to distribute all of Fox's films in Denmark and Finland.
Furthermore, in Norway, Nordisk Film will provide theatrical booking services for Fox, while in Sweden Fox will provide theatrical booking services for Nordisk Film.
Titles in the agreement include the upcoming War Of The Planet Of The Apes [pictured], Kingsman: The Golden Circle, The Mountain Between Us, Murder On The Orient Express and The Greatest Showman.
Kenneth Wiberg, president of Nordisk Film Distribution, commented: "We are extremely delighted to start this endeavour with 20th Century Fox Film and look forward to working with Paul Higginson and his team.
"Historically, Fox's titles have delivered strong performances and the current line-up of titles is impressive. We will be proud of bringing them to the market In the Nordics where they will complement Nordisk Film's portfolio of strong international independent films and market leading local titles."
Paul Higginson, Fox's executive vice president International Distribution (EMEA), added: "We are very excited at the prospect of working with Kenneth and the exceptional Nordisk Film team.
"Twentieth Century Fox Film has always sought out new opportunities and in-depth local knowledge; we feel that we've found an excellent partner in Nordisk Film. We look forward to working closely with Nordisk Film to get the best results from our combined portfolios."